Date: April 07, 2018
Time: 9:00 AM - 3:00 PM
Location: MSU College of Veterinary Medicine
Vet-A-Visit is our annual open house, where everyone is welcome to visit and learn about the world of veterinary medicine. This year, registration is required and you will need tickets for entry.
There will be specific time slots in which interactive learning tours will be offered for food animal, equine, small animal, and wildlife. Doctorate of Veterinary Medicine and Veterinary Technology students will be providing these tours.
Tickets will be available starting Thursday, March 1. Tickets are available individually or by groups of up to 10 tickets at a time. Only 2,000 tickets will be available.
Get your tickets for Vet-a-Visit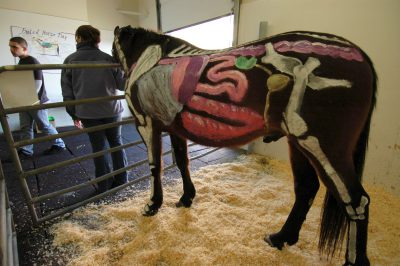 Costs
The event is free, but tickets are required for entry. Please note that our students sell merchandise and concessions as fundraisers. Please plan to bring any cash you may need.
Pets
No personal animals are allowed at Vet-A-Visit. This is to ensure the health of your pet, as well as those animals under the care of the MSU Veterinary Medical Center.
Ages
This event is geared towards children between kindergarten and eighth grade. There are no age restrictions; however, we generally do not recommend bringing children younger than five.
Directions
See our maps and directions below:
Follow Trowbridge Road down the exit ramp to the first major intersection at Harrison Rd. Harrison runs north and south and borders the MSU campus on the west side.
Cross Harrison and enter the MSU campus. Follow Trowbridge as it takes a sharp curve to the left (north) and becomes Red Cedar Road. Get in the right-hand lane and turn right onto Wilson Rd at the stop light at Red Cedar and Wilson Rd. You will come to a stop light at Farm Lane; continue east through this intersection.
The next stoplight you will come to is at Bogue and Wilson. On the southeast corner (right-hand side) is the Veterinary Medical Center. On the northeast corner (left-hand side) is the Wharton Center for Performing Arts. Get in the left-hand lane to park in the Wharton Center ramp.
Once you've parked, walk out of the ramp and south across Wilson Road. Entrance information will be provided on your
registration ticket. DO NOT ENTER THE SMALL ANIMAL EMERGENCY DOORS (middle entrance).
Tweet your questions @msuvets.
Tag #VetaVisit on Instagram, Twitter, and Snapchat
If you have any questions about Vet-A-Visit, please contact us at cvm.studentsupport@cvm.msu.edu.
Some of our most popular exhibits (partial list)
Exotic animals (snakes, lizards, spiders and more!)
Listen to the heart-sounds of a goat
Milk-a-Cow (try your hand at milking a cow from the MSU Dairy Farm
Proper Pet Handling 101 (our veterinary students will show you how to approach an unfamiliar animal)
Teddy Bear Clinic (bring your torn and tattered stuffed animals from home so our doctors can fix them up!)
Come and Get It! Dinner at the Barn Yard (Learn what horses and cows eat)
Bird Beaks and the Foods They Eat (did you know that birds eat different things based on the size and shape of their beak?)
Kids Craft Table—a chance to be creative and colorful and to take something home
Scope it Out—learn how endoscopes are used to look inside animals and help them heal
Tours of the Radiology Department (please be patient--expect to wait in line for at least 15 minutes)
How Clean are Your Hands? (Learn about the role of veterinarians in keeping the public safe and healthy)
What's in Your Pet's Blood? (peek through a microscope to see what blood cells look like)
Hop On Over! (meet some rabbits and learn about these furry creatures)
Pet First Aid 101 (our students will show you how to deliver help in case of an emergency)
Look at Me Meow and Fun for Felines (two different exhibits featuring educational information on cats)
The "Tooth" about Dental Health (how many teeth do dogs and cats have? What can they chew?)
Less Strays, More Spays (learn about the importance of spaying and neutering pets)
Plethora of Parasites (which kind of micro-organisms can be harmful to your pets?)
What is a heartbeat? (listen closely to a dog's heart and lung sounds)
MSU Science Festival
MSU Science Festival is taking place April 6-22, 2018. It is an amazing multi-day series of events for people of all ages to experience science, technology, engineering, arts, and mathematics (STEAM) through live presentations. To find out more information please visit sciencefestival.msu.edu