Date: April 08, 2017
Time: 9:00 AM - 3:00 PM
Location: MSU College of Veterinary Medicine
Vet-a-Visit is our annual open house, where everyone is welcome to visit and learn about the world of veterinary medicine. This year, registration will be required to participate in the event. Please check back in December for more information.
Doctorate of Veterinary Medicine and Veterinary Technology students provide educational exhibits related to veterinary science. This year's theme will illustrate how a veterinarian diagnoses various cases for both small and large animals.
All exhibits will showcase the MSU College of Veterinary Medicine's mission of Learn, Discover, Heal, Protect. If you love science and animals, or are interested in a career in veterinary medicine, Vet-a-Visit is for you.
Please Note: Registration will be required. Details coming in December.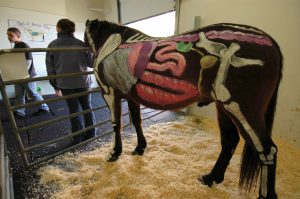 Tweet your questions @msuvets.
Join our mailing list.
Tag #VetaVisit on Instagram, Twitter, and Snapchat
Costs
The event is free; however, a small fee will be required for parking. This is to provide the most efficient process for all of our participants. Please note that our students sell merchandise and concessions as fundraisers. Please plan to bring any cash you may need.
Pets

No personal animals are allowed at Vet-A-Visit. This is to ensure the health of your pet, as well as those animals under the care of the MSU Veterinary Medical Center.
Ages
There are no age restrictions; however, we generally do not recommend bringing children younger than five.
Directions
See our maps and directions below:
Follow Trowbridge Road down the exit ramp to the first major intersection at Harrison Rd. Harrison runs north and south and borders the MSU campus on the west side.
Cross Harrison and enter the MSU campus. Follow Trowbridge as it takes a sharp curve to the left (north) and becomes Red Cedar Road. Get in the right-hand lane and turn right onto Wilson Rd at the stop light at Red Cedar and Wilson Rd. You will come to a stop light at Farm Lane; continue east through this intersection.
The next stoplight you will come to is at Bogue and Wilson. On the southeast corner (right-hand side) is the Veterinary Medical Center. On the northeast corner (left-hand side) is the Wharton Center for Performing Arts. Get in the left-hand lane to park in the Wharton Center ramp.
Once you've parked, walk out of the ramp and south across Wilson Road. Entrance information will be provided on your
registration ticket. DO NOT ENTER THE SMALL ANIMAL EMERGENCY DOORS (middle entrance).