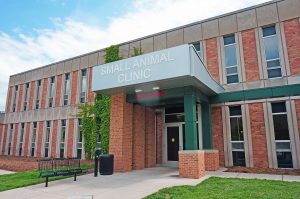 The Michigan State University Veterinary Medical Center continues our commitment to serving you and your clients to the best of our ability. Like many practices, we've been faced with an increased demand for our services. Veterinary hospitals across the country, perhaps including yours, are experiencing this unprecedented case demand. Due to this, we must change our patient care options starting Wednesday, May 5, and through the foreseeable future to guarantee we can care for patients appropriately. The changes will be:
Beginning Wednesday, May 5, 2021, the Small Animal ECCM Service will have the following changes implemented:
Reduced Small Animal Emergency and Critical Care Medicine Service (ECCM):
The MSU Small Animal ECCM will operate as an Emergency and Critical Care Service rather than a combined "urgent care, emergency, and critical care service." We will make a brief preliminary assessment of any patient that presents to our Hospital. Only patients that our clinicians consider to be unstable and have life-threatening conditions will be admitted, provided we have hospitalization capacity. Owners of patients not considered to need that level of care will be referred to other practices or advised to seek care by appointment during regular business hours (Monday–Friday, 8:00 a.m.–5:00 p.m.).
Effective Immediately, Reduced Small Animal Soft-Tissue Emergency Surgery Availability:
We will not be able to perform any emergency soft tissue surgery after hours on weekdays (outside of the hours 8:00 a.m.–5:00 p.m., Monday–Thursday). If you anticipate your patient will need after-hours soft tissue surgery, they should be referred elsewhere. On weekends—5:00 p.m. on Friday–8:00 a.m. on Monday—emergency soft tissue surgery will be limited to critical, life-threatening emergencies, as judged by the surgeon.
Appointments for other services that occur during normal business hours, and operations within our Large Animal Clinic, remain unchanged.
​If a case is life-threatening and hospitalization capacity is exceeded, we will attempt to stabilize the patient and refer the case to other service providers.
For any procedural questions, please call the Hospital's Business Office at (517) 353-4957.