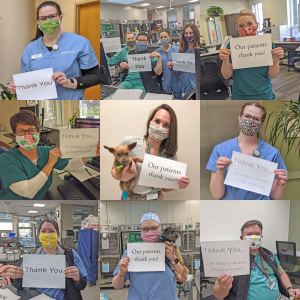 Due to our revised operations, which permits only sick or injured animals to enter the Hospital, clients are advised to only bring their sick or injured animal(s) with them to the Hospital. The veterinary healthcare team does not recommend that clients bring other pets with them, as they may have to wait in their car for an uncertain amount of time. Just like humans, animals are at risk of heatstroke, especially during the warm, humid summer months. Having pets in the car for an extended period of time increases this risk. For their sake, we kindly ask that you leave your healthy pet(s) at home if you need to bring another pet to the Hospital. Our goal is to continue to provide the highest quality of care to both animals and their owners. We appreciate your patience and understanding as we navigate this challenging situation together.
For your safety and the safety of your pets, we have revised our operations as follows:
Effective Monday, March 16, 2020, at 8:00 a.m. EST. Last updated Friday, April 30, 2021, at 11:00 a.m. EST.
Members of the public will be unable to access the clinic or to visit their animals if they are inpatients, except in the case of euthanasia—in which case, only clients with no risk or symptoms will be allowed. This is to protect our healthcare team such that we can continue to treat emergency cases.
Communication between VMC personnel, clients, and referring veterinarians will occur by phone, email, or text whenever possible.
Depending on circumstances, the speed at which animals need to be admitted, and staffing levels, the VMC team will communicate with owners (including history taking, discussing estimates, getting consent) over the phone once the animal is admitted.
Owners arriving with emergencies or appointments that have been deemed necessary will be asked to call the number they have been given by their veterinary healthcare team or the numbers posted at the small and large animal entrances.
Upon arrival, owners will be asked a few questions over the phone that pertain to their healthcare status so that our veterinary team can determine if the team needs to wear any protective clothing while they interact with said clients and pets.
The animals may then need urgent admission to the Hospital, or the VMC team may come outside and talk to owners in the parking lot. Apart from urgent upon-arrival triage (which currently takes place in the reception area), all clinical examinations will take place inside with animals present only. Some cases are not as urgent as others, so some owners and pets may need to wait in the car for a while. Owners will remain in their cars throughout the duration of their pets' examination.
Any consent forms will be presented to the owner in the parking lot for completion.
If owners choose to move forward with the recommended treatment, they will be asked for payment information at the time the consent forms are presented. This is so they can make a deposit for half the amount of the estimated cost of care. Our payment methods include credit cards (Visa, MasterCard, Discover, and American Express). We also accept CareCredit. If owners are interested in this option, please let our staff know.
Animals being discharged will be brought out to the owners.

Owners can pay their remaining balance using any of the aforementioned payment methods.

Clinical students will be part of the healthcare team but will have minimal contact with owners.
Faculty, staff, and clinical students working in the clinic must attest to their supervisor that they are without risk or symptoms for COVID-19.
Faculty and staff not part of the healthcare teams should NOT use the clinic for access to other parts of the CVM complex and should work remotely whenever possible and approved.