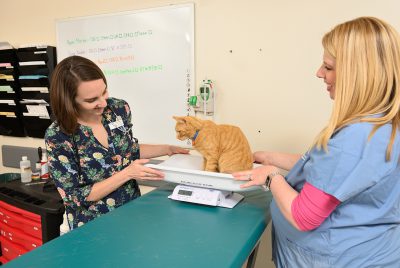 The first day of the appointment is for a consultation with the radiation oncologist. If time allows, and as medically indicated, treatment planning imaging may also occur on that day. Computerized treatment plans take one to three business days, whereas some basic treatments can be started on the same day or the day after the consultation.
Clients will receive text messages or phone calls when their pets are awake to set up a go-home time; they can choose to wait for their pet to be treated if arranged in advance with the radiation therapist. Additionally, patients can stay in the Hospital if drives are long.
Admission is on Monday morning and discharge is on Friday afternoon. Currently we do not offer weekend hospitalization unless medically necessary.
Take a look at treatment in action