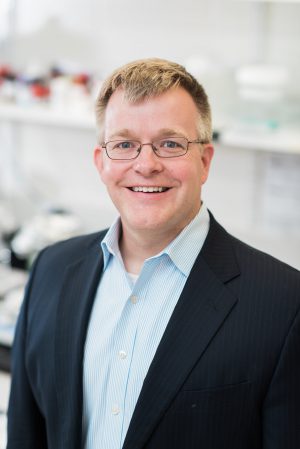 Dr. James P. Luyendyk is a Professor in the College of Veterinary Medicine's Department of Pathobiology and Diagnostic Investigation (PDI) and the Center for Integrative Toxicology at MSU. He directs the laboratory, which focuses on identifying novel mechanisms by which the coagulation cascade contributes to the pathogenesis of acute hepatotoxicity and chronic liver disease. Jim earned a BS in Biochemistry from Colorado State University in 2000 and a PhD from the MSU Pharmacology and Toxicology—Environmental Toxicology program in 2004. Jim pursued post-doctoral studies at The Scripps Research Institute in Dr. Nigel Mackman's laboratory and in 2007 joined the Department of Pharmacology, Toxicology and Therapeutics at the University of Kansas Medical Center as assistant professor prior to joining MSU in 2012. Dr. Luyendyk is recipient of several awards including the 2016 Mentoring Award from the Society of Toxicology Women in Toxicology Special Interest Group, the 2018 Zoetis Award for Veterinary Research Excellence and the 2018 Kenneth E. Moore Distinguished Alumnus Award from the Department of Pharmacology and Toxicology at MSU.

Dr. Anna Kopec is a Research Assistant Professor in the lab. She earned a BSc in Job Creation Oriented Biotechnology from the University of Gdansk, Poland/University of Perugia, Italy and then continued with graduate studies at MSU earning a dual major PhD in Biochemistry & Molecular Biology and Environmental Toxicology. Anna then continued as a Postdoctoral Research Associate with Dr. Timothy Zacharewski at MSU, conducting research on consequences of hexavalent chromium exposure on intestinal and oral epithelial cells in rodents. Anna initially started working in the Luyendyk lab as a Postdoctoral Research Associate and is now hoping to develop an independently funded research program.
Currently, Dr. Kopec is involved in multiple research projects and assists Dr. Luyendyk with training and management of undergraduate students, graduate students and Postdocs in the lab. Anna's projects focus on identifying mechanisms whereby coagulation protease signaling and intrahepatic fibrin deposits contribute to liver repair in a model of acute liver toxicity following acetaminophen poisoning. Anna is also involved in studies that examine the intersection of coagulation and obesity-associated diseases including non-alcoholic fatty liver disease. Her goals include deciphering the complex relationships of the coagulation cascade, making people laugh, and introducing her colleagues to Polish culture and delicious food.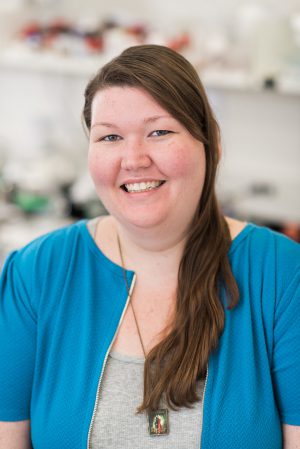 Holly Cline-Fedewa is our animal tech extraordinaire. She holds a BS in Animal Sciences from The Ohio State University. Holly's first adventures in mouse colony maintenance were with Dr. Laura Nagy at the Cleveland Clinic's Lerner Research Institute, Department of Pathobiology and Dr. Michele Pritchard at Case Western Reserve University's Division of Gastroenterology and Liver Disease. It was under Doctors Nagy and Pritchard's direction that Holly was trained in proper animal handling, colony maintenance, and collection.
Holly joined Dr. Luyendyk's laboratory in early 2012. Holly is responsible for managing 16 strains of mice for the lab, keeping the animal experiments organized- despite the inherent chaos of a busy laboratory, aiding in the application of experimental animal models, bench work, training fellow Luyendyk lab members who have not had experience with animal models, and collection. Holly also manages another mouse colony for a collaborator, Dr. Bryan Copple. Holly is a fandom nerd who enjoys sharing her passion for the power of the force, the mad man with a box, and she believes that death cannot stop true love. Holly is also entirely responsible for getting Dr. Luyendyk addicted to Doctor Who on BBC."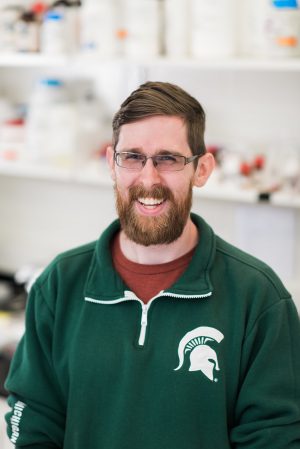 Kevin Baker is a PhD candidate in the Department of Pharmacology and Toxicology and the Institute for Integrative Toxicology. He holds a bachelor's degree in Microbiology as well as a bachelor's degree in Genomics and Molecular Genetics from Michigan State University. Kevin joined the lab in February of 2016, and his research focuses on the underlying mechanisms that activate coagulation during liver disease. Kevin has been supported by the Integrative Pharmacological Sciences Training Program at MSU (T32 GM092715).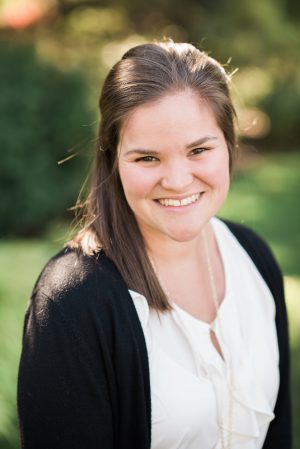 Dr. Lauren Poole is a postdoctoral researcher in the lab. Lauren earned a bachelor's degree in Biology and Subcellular Genetics from the University of Louisville in Louisville, KY, in 2013. She went on to receive a Ph.D., also from the University of Louisville, in Pharmacology and Toxicology studying the effects of chronic alcohol exposure on the development of acute lung injury.
Lauren joined the Luyendyk lab as an NIEHS T32 Postdoctoral Fellow in August of 2017, and is currently involved in many projects in the lab. Her primary research focus is understanding how activation of the blood coagulation cascade signals to macrophages to promote tissue repair. When she isn't working on her many projects in the lab, Lauren enjoys shopping, consuming (borderline) unsafe amounts of coffee, and exploring the Michigan wilderness with her dog, Rosie.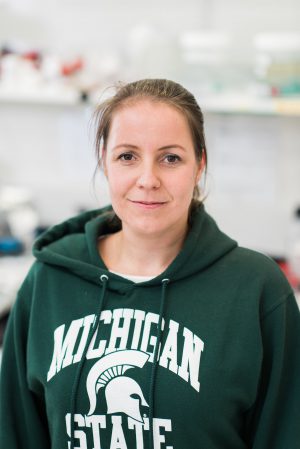 Dr. Dafna Groeneveld is a postdoctoral researcher in the lab. After obtaining her PhD at the University of Leiden, the Netherlands on hemostasis-related topics involving von Willebrand factor, Dafna joined the Surgical Research Laboratory of the University Medical Center Groningen (the Netherlands) as a postdoctoral researcher. Her work there focused on both clinical and more fundamental aspects on the interface between hematology, hepatology, and surgery, with specific emphasis on hemostatic changes in patients with liver disease. During her work in Groningen, she and her mentor, Dr. Ton Lisman, started a collaboration with Dr. Luyendyk's lab on the role of fibrin(ogen) in stimulating liver regeneration after a partial hepatectomy. In the summer of 2017, she received the European Hematology Association Non-Clinical Junior Research Grant to join the Luyendyk lab. Here, she continues to work on the interface between hematology and hepatology, focusing on the role of hemostasis, in particular von Willebrand factor and fibrinogen, in liver disease and liver regeneration.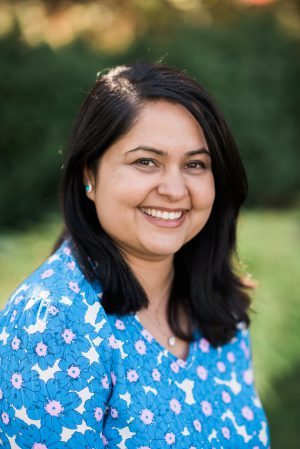 Dr. Asmita Pant joined the lab in the Spring of 2016 as a post-doctoral research associate. She received her BTech in Biotechnology from Kathmandu University, Nepal followed by a PhD in Pharmacology in the lab of Dr. Thomas Kocarek at Wayne State University. Asmita's dissertation work focused on isoprenoid-mediated regulation of hepatocyte lipid and xenobiotic metabolism.
Currently, Asmita is involved in multiple projects in the lab focused on examining the complex relationship between blood coagulation cascade and liver repair across several acute and chronic models of liver injury in mice. One of her major projects includes exploring contribution of the coagulation protein fibrin(ogen) and fibrinolysis in the repair if liver after acetaminophen overdose. When she is not thinking about science, Asmita loves to reminisce about the precious few sunny days in Michigan and enjoys exploring the wilderness with her family.