Forms and instructions
The NMDL will begin to accept muscle biopsies January 4, 2016.
Information on submitting a sample
What muscle should I biopsy?
See information on selection of the correct muscle for biopsy.
Should I submit formalin fixed or fresh samples?
For best results, fresh and formalin samples should be submitted. Within the same shipping box but protected by double bagging that includes an absorbent material, ¼ of the sample placed in formalin also should be sent as a reserve. The fresh samples are frozen upon arrival at our laboratory using specialized techniques. If there is any potential delay in shipping or transport of the sample, the formalin sample serves as a reserve. If at all possible do not take samples on Fridays or weekends, in an emergency if this happens, keep the fresh sample in the refrigerator prior to shipping and ensure you also have a formalin-fixed sample. For instructions on submitting these samples please see this document.

When should we schedule a biopsy?
Please schedule muscle biopsies from Monday to Wednesday and send fresh specimens by priority overnight so that they can be processed before the weekend.
What if I have to take a biopsy sample on Friday?
If absolutely necessary, biopsy samples taken Friday-Sunday can be divided with half placed in formalin and half placed in a refrigerator until shipped on Monday on ice packs.
Can I submit samples from outside the US?
Samples are accepted from Canada with the correct permit which can be obtained from the Michigan State Veterinary Diagnostic Laboratory. You must use a major carrier like Fed Ex or DHL. Samples from other countries can only be evaluated if formalin-fixed paraffin embedded glass slides are made and shipped to our lab unstained (5 slides). Permits are not needed for glass slides.
When will I get biopsy results?
Muscle samples are processed once per week and read out within 10 days unless an expedited request is made. Results are available by fax or email through DCPAH. Note The history and physical exam section of the submission form must be filled out to obtain biopsy results and recommendations. A delay will occur if we have to contact you for history and clinical signs.
Packing and shipping a biopsy
Do not squeeze or squish as that can damage cells. Do not ship muscle in red top tubes.
Place a ½- 1" cube of fresh muscle on gauze that has been moistened with saline and had all the excess moisture wrung out. Do not ship samples floating in saline.
Place the sample in a hard, watertight container such as urine cup or prescription jar for protection.
Label each container with the horse's name, name of the muscle it contains, one muscle per container.
Include a 7-10 ml sample of whole blood or a ½" section of mane hairs pulled with roots intact and placed in a zip lock bag. This sample will be stored for future genetic research.
If you are submitting formalin samples, ensure they are in a water-tight container labeled formalin and place that container in a separate zip lock bag.
Place all containers, tubes on icepacks in a Styrofoam container.
Fill out, print and enclose the appropriate submission form. These pdf forms require Adobe Acrobat Reader.
Samples will not be read out without a completed history.
Ship overnight on icepacks using a major carrier such as Fed Ex or UPS.
Please use attached document for detailed instructions on shipping a sample.
Evaluation of the biopsy
We freeze the samples in a special fashion rather than using formalin-fixed samples because freezing allows a number of different stains to be used and better preserves the muscle architecture. Without special care, ice crystals form and create small holes in the sample (freeze artifacts) that can make histochemistry more difficult and less accurate. Therefore, we must freeze the samples ourselves.
Frozen samples are evaluated with at least 5 different tinctorial, histochemical or immunohistochemical stains. Sample will be evaluated for muscle fiber sizes, shapes, vacuoles, storage products such as lipids and glycogen and potentially metabolic and contractile properties. These techniques will screen for Polysaccharide Storage Myopathy, Glycogen Branching Enzyme Deficiency, Recurrent Exertional Rhabdomyolysis, Equine Motor Neuron Disease, neurogenic atrophy, Immune-mediated Myositis, Seasonal Pasture Myopathy, Myofibrillar Myopathy and many other diseases.
The history and physical exam section of the submission form must be filled out to obtain biopsy results and recommendations. Dr. Valberg combines histopathologic findings with history and physical examination findings to determine the most accurate diagnosis and best treatment options.
Obtaining a Muscle Biopsy
Objective: To obtain a ½ inch cube of muscle that will be oriented in cross-section once it arrives at the NMDL. Note muscle contracts after transection so aiming for ¾ - 1 " long and ½ inch wide and deep sample prior to transection is ideal.
Choosing the appropriate muscle
For exertional rhabdomyolysis and type 1 or type 2 polysaccharide storage myopathy
For equine motor neuron disease
For focal muscle atrophy
Select the atrophied muscle
For Immune-mediated myositis in Quarter Horse-related breeds with top line atrophy
Obtaining a Muscle Sample
Please avoid crushing the muscle sample as it creates numerous artifacts. Hold the tissue with forceps in one location only.
Semimembranosus biopsy
See this document on how to obtain a muscle biopsy.
The best site for a biopsy is midway between the tuber ischii and the origin of the Achilles tendon at about the level of the vulvar lips. Avoid tendinous insertions.
This site hides scarring under tail hairs and is easily treated if dehiscence occurs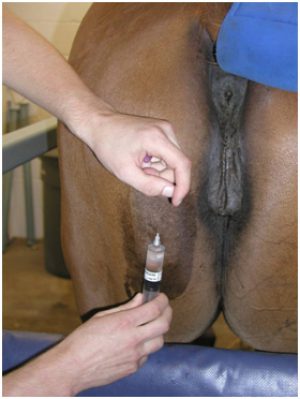 Procedure:
Tranquilize the horse and wrap the tail
Lidocaine subcutaneously (7- 10 ml) (not in muscle itself)
2 inch vertical incision
Incise skin, subcutaneous tissue
Vertical incision through fascia
Undermine the fascia on one side
Make two parallel vertical incisions, one-half inch apart
Hold muscle in one place with forceps then transect dorsally
Free biopsy one-half inch deep, then transect ventrally
Close dead space with subcutaneous layers
Close skin with simple interrupted sutures or staples
Small scar may remain
Good subcutaneous closure is the most important technique to prevent wound dehiscence.
Sacrocaudalis dorsalis medialis biopsy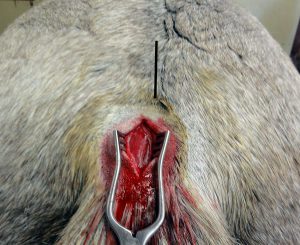 This muscle is located above the tail head on either side of the dorsal spinous processes of the sacrocoxygeal vertebra (see picture). Do not go too far cranially or laterally as this is the biceps femoris or superficial gluteal muscle which is not diagnostic for EMND. The sacrocaudalis muscle has >50% slow twitch fibers which are most consistently atrophied with EMND or vitamin E deficient myopathy with mitochondrial staining alterations.
Procedure
Lidocaine is injected under the skin but not into the muscle belly. This area has many nerves so 5-7 ml of lidocaine may be necessary.
A 1-2 inch incision is made through the skin and subcutaneous fat and fascia. The skin is not flexible in this area so a larger skin incision with a retractor for visualization is helpful.
Parallel longitudinal incisions are made in the muscle 1/4 inch apart.
The cranial aspect of the muscle is grasped with forceps and the muscle is dissected out one-quarter inch deep and one-half inch long. Don't pull this muscle out via forceps as that squishing creates atrophy. Try to use a retractor to visualize the muscle prior to incising.
This area can have a lot of subcutaneous fat. Make sure the sample is deep enough to obtain muscle tissue.
Gluteal or epaxial biopsy for Immune-mediated myositis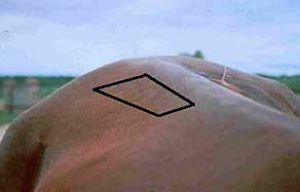 For IMM, the most accurate diagnosis is obtained if muscle is biopsied during the first two weeks of atrophy when numerous infiltrates are present.

For IMM, if muscle atrophy is present in the gluteal or epaxial (back) muscles, sample this muscle.
Obtain three or four Tru-Cut biopsies from the gluteal or epaxial muscles behind the saddle area
Use subcutaneous lidocaine and a stab incision
Try and press the Tru-Cut window into the muscle using leverage and cut samples
Place 3 or 4 Tru-Cut samples in formalin
To rule out other causes of muscle atrophy include a fresh semimembranous sample as well.
Biopsy for focal muscle atrophy
Choose a muscle that appears atrophied grossly or by ultrasonography or EMG.
Try to place your incision parallel to the longitudinal axis of the muscle fibers. Often this follows the direction of the hair coat.
Tranquilize the horse
Inject lidocaine subcutaneously (7- 10 ml) (not in muscle itself)
1.5-2 inch vertical incision
Incise skin, subcutaneous tissue
Vertical incision through fascia
Undermine the fascia on one side
Make two parallel vertical incisions, one-half inch apart
Hold muscle in one place with forceps then transect dorsally
Free biopsy one-half inch deep, then transect ventrally
Close dead space with subcutaneous layers
Simple interrupted sutures in the skin