The best site for a biopsy is midway between the tuber ischii and the origin of the Achilles tendon at about the level of the vulvar lips. Avoid tendinous insertions.
This site hides scarring under tail hairs and is easily treated if dehiscence occurs
Procedure: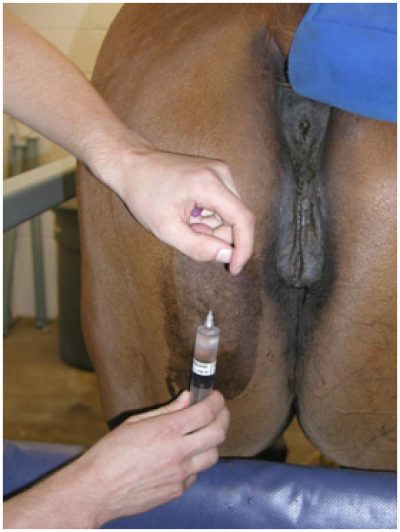 Tranquilize the horse and wrap the tail
Lidocaine subcutaneously (7-ml) (not in muscle itself)
1.5 inch vertical incision
Incise skin, subcutaneous tissue
Vertical incision through fascia (leave and suture fascia to prevent unsightly herniation of muscle)
Undermine the fascia on one side
Make two parallel vertical incisions, one-half inch apart
Hold muscle in one place with forceps then transect dorsally
Free biopsy one-half inch deep, then transect ventrally ¾ inch length
Close dead space with subcutaneous layers
Close skin with simple interrupted sutures or staples
Small scar may remain
Good subcutaneous closure is the most important technique to prevent wound dehiscence.