The Fortin Drug Discovery Laboratory is working to discover small molecules to treat protein-folding, neuropathologic, and neurotoxicologic disorders. Current investigations include therapeutic strategies for neurodegenerative diseases and type 2 diabetes, neurotoxicity and dysfunction in basal ganglia pathways, and diagnostic investigation of protein-folding disorders.
A Word from Dr. Fortin
My research team is comprised of oligomer and fibril exterminators! Our work focuses on swapping these deleterious conformations of proteins with small molecules in the One Health approach. We study proteins and evaluate the impact of small molecules on the conformational changes of prone-to-aggregate proteins with unique combination of expertise in chemistry, toxicologic pathology, and veterinary medicine!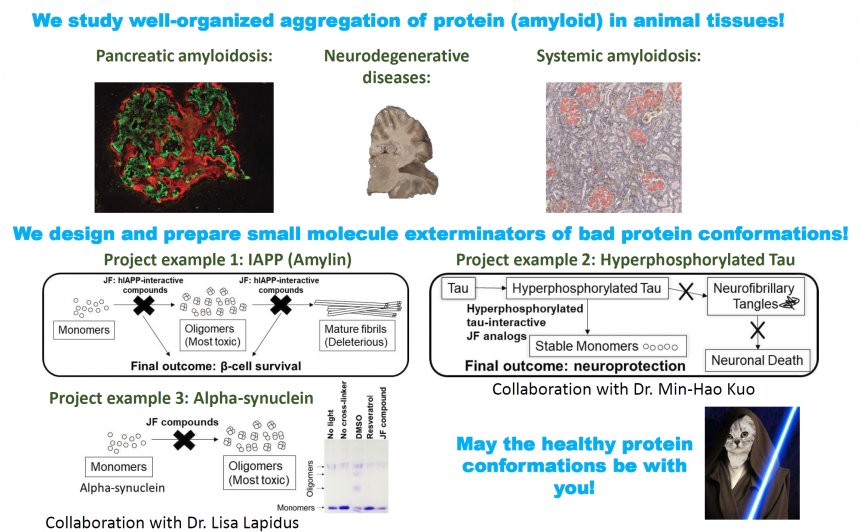 Come join the Fortin Drug Discovery Lab to work in this fascinating amyloid field and contribute to our mission focusing on the understanding of protein misfolding and the discovery of small molecule exterminating deleterious protein conformations.

Contact Dr. Fortin for more information.
News Updates
May 1, 2020 Congratulations to four of our fantastic undergraduate students, Alyssa, Anisa, Hanis (Nurhanis), and Malikah! They just received their bachelor degrees in Chemistry from the MSU College of Natural Science! I am very proud of them! Go green. Go white. Go Forth! -Dr. Jessica Fortin