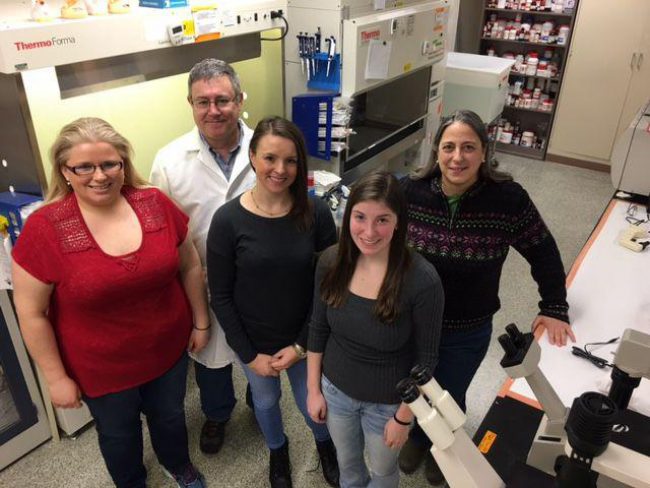 Members of the Meadow Brook Immunobiology Lab, from left: Jennifer De Vries, Research Technologist; Jeff Gandy, Research Assistant; Lauren Wisnieski, Graduate Student in CMIB program; Ashley Putman, CVM (2019); and Dr Lorraine Sordillo, Meadow Brook Chair of Farm Animal Health and Well Being.
Jennifer De Vries, Research Technologist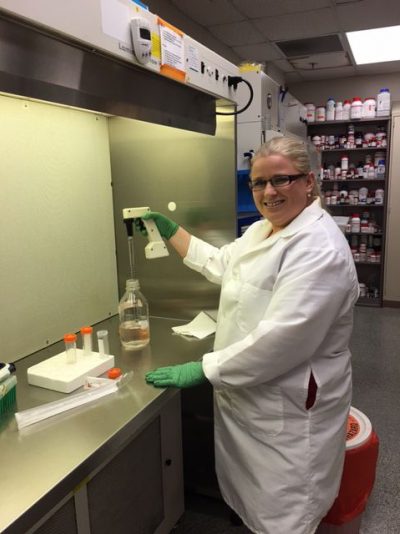 Jennifer joined the Meadowbrook laboratory just before concluding her graduate program in 2015. She completed her Bachelor of Science (BS) in Animal Science, followed shortly after by completing her Master of Science (MS) degree in Animal Science, both at Michigan State University. Her masters research focused on the "mechanism of intestinal and skeletal muscle glucose and amino acid uptake in horses diagnosed with pituitary pars intermedia dysfunction". During this time she gained experience performing various swine research trials as well as being an advisor to the Animal Science Undergraduate Research Student Association (ASURSA), president of the Animal Science Graduate Student Association (ASGSA), laboratory manager, and completing the Certificate in College Teaching Program (CCTP). Jennifer has a passion for all aspects of research, especially laboratory work and teaching students. She has managed a horse riding facility in Potterville for the last 12 years where she continues to teach lessons. In addition, Jennifer maintains a Producers Insurance License through the State of Michigan, a job she held from high school through graduate school. In her spare time she enjoys hiking with her dog Kermit, traveling, and boxing. In the future, Jennifer is interested in building a career in nutritional immunology, either at a research university or in industry.
Ashley Putman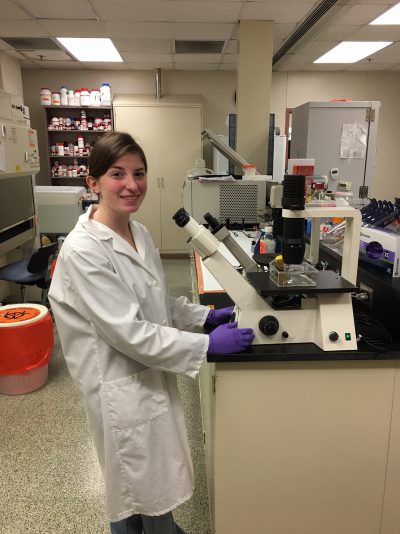 Ashley grew up in Upstate New York, where her love of animals and interest in curing diseases lead her on a path towards veterinary medicine. She completed her bachelor's degree at the University of Findlay, majoring in animal science with a pre-veterinary emphasis and biology, along with minoring in chemistry. Currently, she is a DVM/PhD student with a strong interest in the research and development sector of industry. Ultimately, she would like to use her research experiences to benefit producers and animals by suggesting better management practices. Ashley's favorite activity outside of school is horseback riding.
Matt Kuhn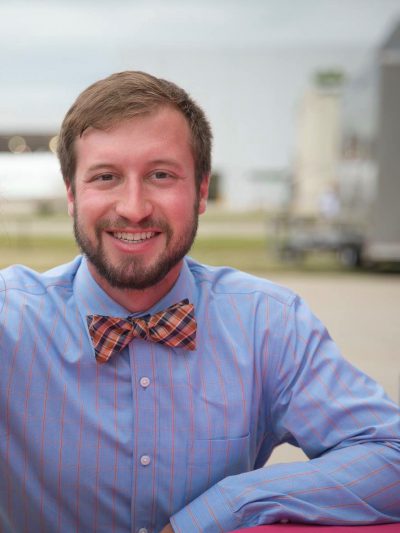 Matt is originally from Mattawan, MI and completed his BS in animal science from Michigan State University with an emphasis on production animal medicine in 2013. He is currently dual enrolled as a DVM and PhD student with expected graduation in 2018 and 2020 respectively. After graduation, Matt hopes to pursue a career in industry research or legislative affairs. In his spare time, Matt enjoys spending time outdoors hiking and camping with his dog, Turk.
Lauren Wisnieski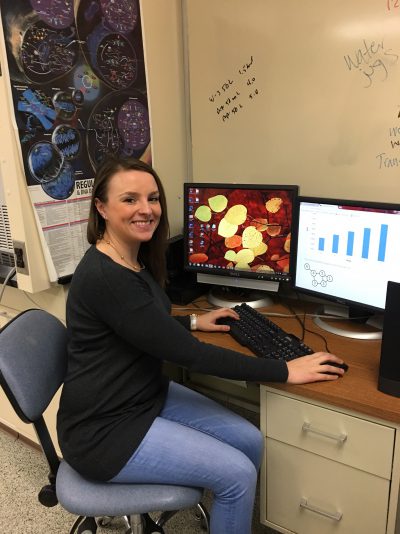 Lauren Wisnieski is a graduate student in the Comparative Medicine and Integrative Biology Program. Her research project is on predictive modeling for disease outcomes in dairy cows. She plans on a research and teaching career with a focus on obesity epidemiology.
Lorraine Sordillo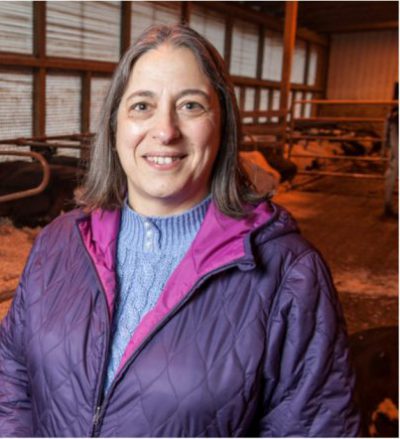 Dr. Lorraine M. Sordillo joined the faculty of MSU in January of 2004. She is the first to hold the Meadow Brook Farm Animal Chair. Dr. Sordillo received her PhD degree in bovine immunology from Louisiana State University. Following that, she was a postdoctoral fellow in the Animal Science Department at the University of Tennessee, from there joining the immunology group of the Veterinary Infectious Disease Organization at the University of Saskatchewan. She started her academic career at Pennsylvania State University in the Veterinary Science Department. Dr. Sordillo's primary research has focused on developing solutions to reduce health disorders in transition dairy cattle by investigating the interaction between nutrient metabolism, oxidative stress and immunology. A major area of research is mammary gland immunology and mastitis control. Dr. Sordillo's research has resulted in more than 140 papers in the refereed scientific literature. She has written numerous chapters in books and monographs and has served as the primary advisor to 30 graduate students and served on the advisory committees of many more. She holds five patents for products related to bovine immunology or immunology research.
Dr. Sordillo has been continuously funded as lead scientist through competitive federal grants from the either the NIH or UDSA since 1993. To date, she has been lead or co-lead grants totaling well over $14,000,000. She serves on many national committees, editorial boards, and grant review panels related to immunology and animal health. She has received several national awards for her research, including the Agway Inc. Young Scientist Award and the West Agro Award, each presented by the American Dairy Science Association, Distinguished Veterinary Immunologist Award presented by the American Association of Veterinary Immunologist and the Pfizer Award for Veterinary Research Excellence. Her research skills include many cellular and molecular techniques, and she has the ability to apply the rapidly expanding technologies of molecular biology and genomics to the disease problems of farm animals.
Jeff Gandy, Research Assistant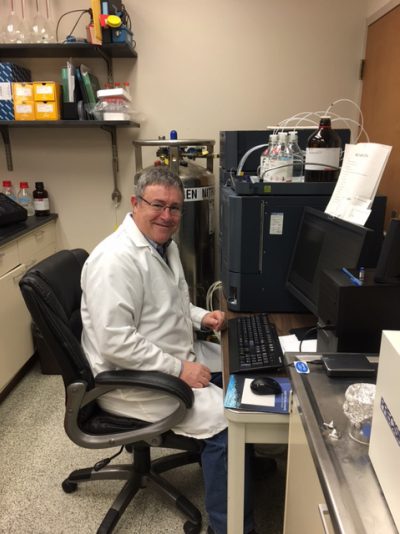 Jeff Gandy managed a 3rd generation dairy farm in north Louisiana and has over 30 years of research experience including dairy, beef, and swine. His research career includes 4 different universities. He is experienced in Real Time PCR, Western Blotting, and tissue culture and high pressure liquid chromatography/mass spectral analysis.