Identification of the Genetic Region of Geriatric Onset Laryngeal Paralysis Polyneuropathy (GOLPP) in Newfoundlands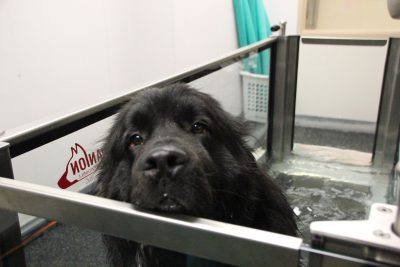 To complement GOLPP study in Labrador retrievers, the GOLPP Study Group from the Michigan State University College of Veterinary Medicine is looking to collect blood samples for DNA analysis from Newfoundlands diagnosed with GOLPP. Additionally, the Study Group is looking to collect blood samples of Newfoundlands that are eight years of age or older, without respiratory or upper GI disease, to serve as control animals in the study.
The Group's long term goal is to find the causative gene(s) of GOLPP which will allow the development of a DNA-based test that breeders can utilize to genotype their young potential breeding stock and thus facilitate eventual elimination of the condition. Further understanding the DNA basis of the disease could prompt new therapeutic approaches and management strategies to alleviate distress in existing affected, beloved, elderly canine patients.
Study contacts:
Maria Podsiedlik, DVM
Bryden J Stanley BVMS, MACVSc, MVetSc, DACVS
Heather DeFore, LVT, BS