Gaining Traction: College to Reinvent DVM Curriculum
In 2015, the MSU College of Veterinary Medicine initiated Strategic Planning, a process designed to advance the College's international leadership status in education, hospital services, research, and public health advocacy. Now, the current student debt crisis has spurred on the College's Curriculum Reinvention to generate the highest-value education with the most post-graduate momentum.
In a campaign to meet goals outlined by Dr. John Baker, dean for the College, Curriculum Reinvention prioritizes career-ready, high-value graduates from a DVM program that is cost effective for both the students and the institution.

"Make no mistake—the single biggest issue here is the decrease in public funding for higher education," said Dr. Baker.
In veterinary medicine, the national current debt-to-income ratio stands at about 2:1, representing debt, usually around $130,000, at twice the starting income for new graduates. Dr. Baker is leading a national initiative with the AVMA and the AVMC to tackle this issue. In spring of 2016, MSU hosted the first-of-its-kind Fix the Debt Summit, which brought together national and international veterinary leaders from academia, industry, private practice, and government.
As a profession, we need to address student debt and advocate on a state and federal level for increased funding for higher education. But we must also look on an institutional level and ask what we as a College can do for our students. That's where the Curriculum Reinvention comes in. —Dean Baker
Curriculum Reinvention Working Groups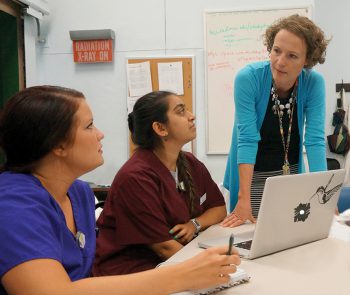 Competencies­ Defining the target competencies for career-ready graduates
Economics of Higher and Veterinary Education Developing recommendations with the potential to reduce the debt-to-income ratio
Wellness Defining a wellness-oriented curriculum and features
Educator Development Defining faculty skills needed to support the reinvented curriculum and a plan to help faculty attain those skills
Curriculum Models Developing a plan for how instruction will be delivered in the reinvented curriculum.
"It's a really exciting time," said Dr. Julie Funk, associate dean for Academic Programs and Students Affairs. "We are well placed internally from the standpoints of initiative, ability, and resources to reinvent how we do veterinary medical education to the benefit of our University, our society, and the world."
Curriculum Reinvention began with a retreat at MSU's Diagnostic Center for Population and Animal Health on May 19, 2016. More than 60 individuals representing faculty, students, alumni, employers, practitioners, industry, and government were in attendance. The College then formed three specialty Working Groups, each targeted to a specific facet of the new curriculum.
"These Working Groups are key to the overarching success of our Curriculum Reinvention; each one is a unique touchstone that we must evaluate, update, and implement," said Dr. Funk, noting the widespread impact of Curriculum Reinvention. "This process isn't just for our students. The education of current and future veterinary students impacts our entire community—locally, nationally, and globally."
Those original three Working Groups are now five: Competencies, Economics of Higher Veterinary Education, Wellness, Educator Development, and Curriculum Models.
These are the key areas that we've identified as pivotal to the experience and growth of our students. What's especially productive about the process is that it's fluid—we can adjust it as we go. We aren't limiting what our discoveries and implementation could or should be. This is an adventure that's going to have huge benefits for our students, our faculty, and the public. —Dr. Funk
Ultimately, the College is using Curriculum Reinvention to answer two key questions: what and how students will learn, and how the College can best facilitate this.
"As we answer these questions," said Dr. Funk, "our students, our faculty, and our community will advance together."