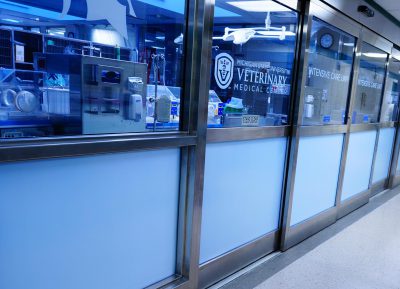 The Emergency and Critical Care Service at the MSU Veterinary Medical Center provides critical medical care, evaluation, and treatment to severely injured or ill animals, as well as ongoing care for critically ill or injured animals.
The Emergency and Critical Care Service—for both large and small animals—is run by teams of board-certified veterinary emergency and critical care specialists. Our dedicated teams include clinicians, residents, interns, licensed veterinary technicians, staff, and senior students who deliver the highest possible standard of compassionate veterinary care to your animal. We work collaboratively with local veterinarians from across the region to make sure your animal gets the best care possible.
With more than 20 specialty veterinary services under one roof, the VMC can internally collaborate with the other services in the hospital to support and enhance your animal's treatment plan.
Common conditions treated by the Emergency and Critical Care Service Include:
Acute abdominal obstruction
Acute neurologic disease
Acute respiratory obstructions
All surgical emergencies
Anemia
Bite wounds
Bleeding
Bloat (GDV/Gastric dilatation and volvulus)
Cardiomyopathy
Colic
Colitis
Diabetic ketoacidosis
Dystocia
Gastrointestinal obstruction
Heart failure
Intervertebral disc disease
Lameness
Neonatal care
Oncologic emergencies
Pancreatitis
Pneumonia
Parvovirus enteritis
Poisonings
Pyometra
Renal failure
Reproductive emergencies
Septic peritonitis
Trauma (chest, abdominal, head, orthopedic, spinal, lacerations, fractures, blunt trauma, etc.)
Upper respiratory infections
Urethral obstruction
Urinary tract infections
Vomiting and diarrhea
Urinary obstruction