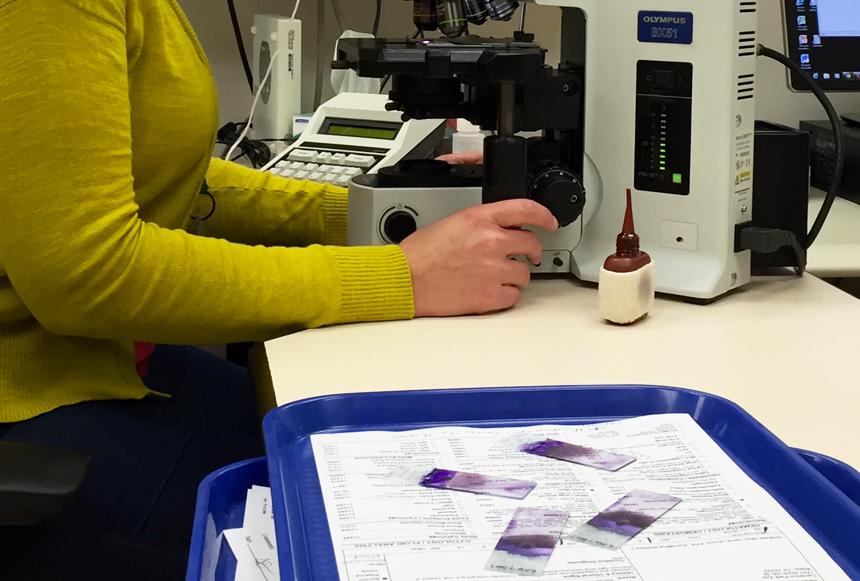 Clinical Pathology 2022 Holiday Operations: November, December, January
Clinical Pathology is the branch of pathology directed to the diagnosis and monitoring of diseases via examination of blood, bodily fluids, secretions, and biopsy specimens. The Clinical Pathology section evaluates these specimens for chemical, morphologic, and immunologic abnormalities. A variety of test procedures and microscopic examinations are performed to confirm a clinical impression, establish or exclude a diagnosis, monitor therapy, and help establish a prognosis.
The Clinical Pathology Laboratory of the MSU VDL offers a full range of veterinary diagnostic testing in the areas of clinical biochemistry, hematology, hemostasis, urinalysis, and cytology. The laboratory is staffed by four ACVP board-certified veterinary clinical pathologists. Our highly qualified technical staff consists of certified Medical Technologists and Medical Laboratory Technicians with extensive experience in veterinary testing and knowledge of species differences. Careful attention to quality assurance ensures the accuracy of results. Laboratory-specific reference intervals are available for dogs, cats, cows, and horses.
For complete information about Clinical Pathology tests, specimen requirements, or submittal procedures please see our catalog of available tests. Please call 517.355.1774 if you have any questions about Clinical Pathology testing.
When contacting the Clinical Pathology Laboratory with questions about a test result on a patient, please have as much of the following information available as possible:
Owner name
Animal name
MSU VDL account number
MSU VDL encounter number
Please do not hesitate to contact the Clinical Pathology Laboratory with any questions or concerns. We would like to help you with sample management before the sample is collected.
A clinical pathologist is available for consultation. Contact the laboratory for availability.
Regular Business Hours:
Monday through Friday 7:00 a.m. – 10:00 p.m. (ET)
Saturday and Sunday 9:00 a.m. – 10:00 p.m. (ET)
Holiday hours are posted online and in the laboratory. Holidays that impact normal operating hours: Memorial Day, Fourth of July, Labor Day, Thanksgiving, Christmas, New Year.
The Clinical Pathology section is located in the Veterinary Medical Center (VMC) on the main MSU campus and offers extended hours to support the VMC's 24/7/365 Emergency and Critical Care service. All other laboratory sections are in the MSU VDL facility located south of the main campus.
Submitting Samples
Submission Form
Complete a MSU VDL Clinical Pathology submission form for each patient. Submission forms are available online and upon request from the lab. Be sure to complete all sections of the submission form including

Clinic Information
Patient Demographics
Specimen Type
History and Clinical Signs
Tentative Diagnosis
Test Selection
Specimen Source (for cytology)
Sample Collection
Sample Shipping
See Shipping Solutions and How to Submit a Sample for more information on packaging and shipping samples. Federal regulations govern packaging and labeling of diagnostic specimens.
For hand delivery of Clinical Pathology samples:
Veterinary Diagnostic Laboratory Clinical Pathology Section 736 Wilson Road, A215 Michigan State University East Lansing, MI 48824-1314
Parking is available in the lot for the Veterinary Medical Center at the corner of Bogue and Wilson.

Turnaround Time for Results
The majority of testing is performed with results reported on the same day samples are received. Due to the labor, time and cost involved, a few low-volume, specialty tests are completed once a week. These include:
ANAs (performed on Tuesdays with results available Wednesday)
Protein electrophoresis (performed on Wednesdays with results available on Thursday)
If data are critical to your patient, you may request that a test be performed stat for an additional fee. All submissions are considered important and samples are analyzed as rapidly as possible in the order in which they are received in the laboratory. A designation of stat means that testing on that sample will be performed prior to testing of all pending routine samples.
Cytology samples that arrive at the Clinical Pathology Laboratory before mid-afternoon will be reported the same day if at all possible. A clinical pathologist will complete cytology and hematology review as expeditiously as possible each day.
Equipment and Instruments
Hematology – Siemens ADVIA 2120
Chemistry – Beckman Coulter AU680
Coagulation – Stago STA Compact
Blood gas/Chemistry - Nova pHOx
Canceling a Test
A specimen that arrives at the Clinical Pathology Laboratory and has not been processed may be canceled. If the ordered tests have already been performed when the cancellation notice is received, the routine fee for the test performed as originally ordered will be billed.
Repeating a Test
Clinical Pathology Laboratory tests will be repeated at no charge when the submitting veterinarian has good reason to question the validity of a test result. Please contact the laboratory and talk to the clinical pathologist on duty if you have questions about a possible erroneous test result.