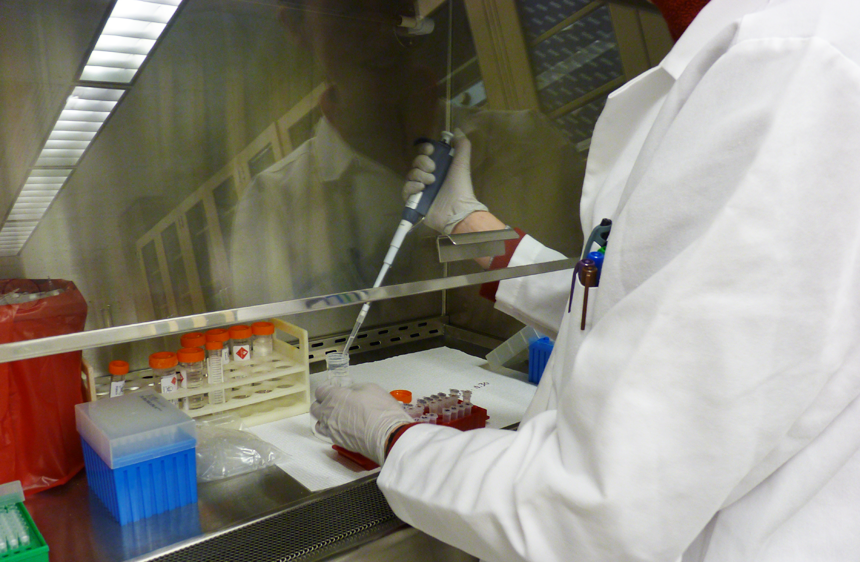 The function of the Virology Laboratory is to provide timely and accurate tests to detect viral pathogens or antibodies induced by viral infection or vaccination. PCR-based testing is used increasingly in viral diagnostics because it is less dependent upon specimen condition, provides excellent sensitivity, and decreases turnaround time. When further characterization is needed, automated sequencing is available.
The Virology Laboratory offers high volume testing for detection of persistent bovine viral diarrhea (BVD) infection in cattle, using pooled PCR for initial screening with an average overall turnaround time of two to four business days. We also have extensive expertise in canine and feline viral diseases and offer PCR-based screening panels.
A variety of methods, such as virus neutralization, ELISA, and hemagglutination inhibition are available in our section to detect and quantitate antibodies induced by natural infection or vaccination. Evaluation of the immune response induced by vaccination is increasingly common in dogs and cats. To accommodate this, we offer canine and feline vaccination response panels.
Surveillance for viral diseases is a significant component of our overall testing. As part of our membership in the National Animal Health Laboratory Network (NAHLN), the Virology Laboratory is certified to conduct surveillance for avian and swine influenza, Newcastle disease, classical swine fever, and foot and mouth disease.
For more information about pricing, test offerings, specimen requirements, or submittal procedures, visit our test catalog or contact us at 517.353.1683.