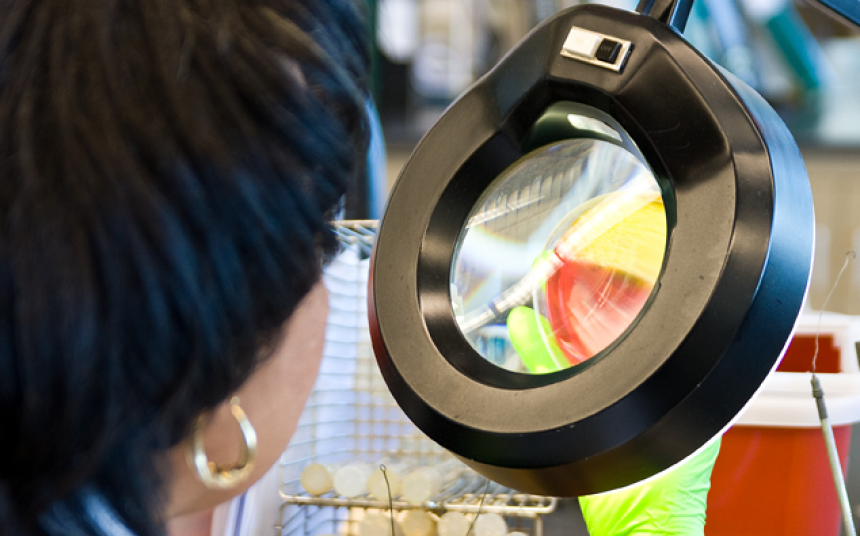 Bacteriology is a specialized branch of microbiology that deals with the study of bacteria, especially in relation to medicine and agriculture. The primary purpose of the Bacteriology Section is to assist veterinarians and animal owners in providing optimal health care for animals by identifying those bacteria and fungi causing disease and by determining the antimicrobial agents to which the bacteria may respond in vivo. To accomplish this, the lab attempts to isolate and identify those organisms associated with infectious processes as quickly and accurately as possible. Susceptibility testing is performed on those isolates that grow in the laboratory sufficiently to provide meaningful results and are considered contributing factors to the disease process.
We utilize both traditional and molecular methods that serve small animal and agricultural clients. Since 2013 we have used a Matrix-Assisted Laser Desorption Ionization-Time of Flight Mass Spectrometer (MALDI) to quickly identify bacterial pathogens. We are known for our leptospirosis diagnostics for canines as well as food animals. Other high volume testing performed in the Bacteriology Laboratory includes culture for Johne's and Salmonella testing as part of the National Poultry Improvement Plan.
For more information about test offerings, specimen requirements, or submittal procedures, please see our test catalog or contact us at 517.353.1683 (regular business hours, Monday – Friday) or 517.353.2296 (Saturday, 9:00 - 11:00 a.m.). Set-ups are done Monday – Saturday.
We encourage client phone calls with questions regarding the appropriate sample to submit, preliminary results, and help with interpretation of test results. Please do not hesitate to contact the lab—we are here to help!
Section Spotlight: Bacteriology
Bacteriology Diagnostic Services
Culture of Mycobacterium paratuberculosis (Johne's)
For Reference