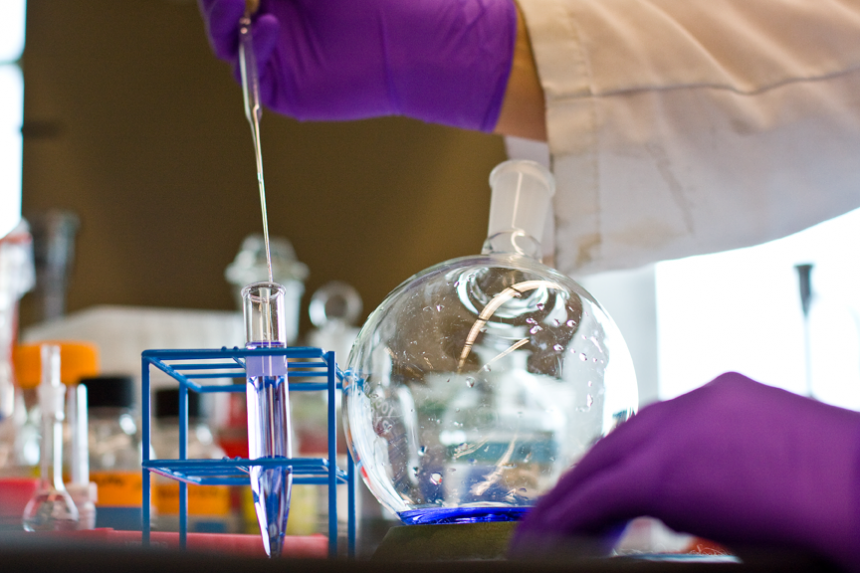 Toxicology is the study of the adverse effects of chemical and physical agents on living organisms, and is often referred to as the science of poisons. The function of the Toxicology Section at the MSU VDL is to analyze biological, food/feed, water, and environmental samples to detect the presence of toxic compounds and determine whether poisons are responsible for animal illness or death. The section also provides therapeutic drug monitoring services, a key component of individualized medicine. Ultimately, this knowledge is used to save animals' lives, protect public health, and assist clinicians in treating animals.
We test animal samples to detect presence of toxins, drugs, or chemical residues. We also test food, water and environmental samples to determine sources of chemical exposures to animals. Tests on food producing animals play a role in food safety.
The MSU VDL Toxicology Section is equipped to test for an almost infinite range of toxic substances and drugs. For instance, we offer tests for rodenticides, insecticides, avicides, fungicides, mycotoxins and plant toxins, trace minerals, heavy metals, veterinary and human pharmaceuticals, and industrial pollutants. Please consult our test catalog for a comprehensive list of toxicants we test for.
Section Spotlight: Nutrition and Toxicology
Frequently-Ordered Tests
Anticoagulants in blood, tissues, and food
Bone marrow fat determination
Bromide
Cholinesterase in blood
Ethylene glycol
GCMS general organic compounds screen
Glomerular filtration rate/Iohexol clearance
Ionophores
Lead in blood
Mycotoxins
Toxic elements in whole blood, tissues, feeds, and water
For complete information about Toxicology tests, specimen requirements, or submittal procedures please see our catalog of available tests. Please call 517.353.1683 if you have any questions about Toxicology testing.
Consultative Workups
The Toxicology Laboratory normally runs routine samples of clinical or diagnostic nature. However, because of our expertise and the sophisticated equipment at our disposal, we can serve clients that need help with unusual cases. This may include analysis of samples for a rare poison, chemical, or drug not routinely performed in the lab and not listed in our test catalog. In such cases, we will work with you to develop the test method and to validate that method. We charge an hourly rate to develop and validate the assay. This process can take between five hours and one week, depending on the complexity of the case. Please call the lab at 517.353.1683 to inquire about a consultative workup, hourly rates, or to determine if we can assist you with a custom assay.
Methods
This well-equipped laboratory uses a wide variety of techniques, including high performance liquid chromatography (HPLC), gas chromatography (GC), gas chromatography/mass spectrometry (GC/MS and GC/MS/MS), inductively coupled plasma emission spectrometry (ICP/AES), inductively coupled plasma mass spectrometry (ICP/MS), and high performance liquid chromatography mass spectrometry (LC/MS/MS).