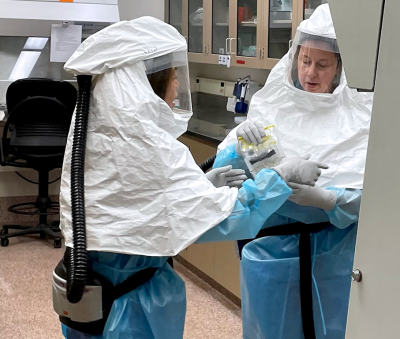 Most of the time, a veterinary diagnostic laboratory isn't much different from a veterinary clinic. It opens in the morning, the team expertly handles everything (big and small) that comes in that day, and at closing time the lights go out and everyone goes home. But when a foreign animal disease outbreak happens, like the emergence of highly pathogenic avian influenza (HPAI) in the U.S. several weeks ago, veterinary diagnostic laboratories transition to an emergency operations model. At the Michigan State University Veterinary Diagnostic Laboratory (MSU VDL), the Laboratory team continually reviews and practices outbreak response procedures to ensure preparedness for an animal health emergency. When HPAI was confirmed in a Michigan backyard flock on February 24, the MSU VDL implemented those outbreak procedures.
This change is most acutely felt by the personnel who are authorized to perform the assay. Testing for foreign animal diseases is regulated by the United States Department of Agriculture and can only be performed by approved laboratories. Currently, 56 member laboratories of the USDA's National Animal Health Laboratory Network can test for HPAI and the MSU VDL is the only approved laboratory in Michigan. Sample processing begins in the Laboratory's biosafety level 3 area where the personal protective equipment, biosafety cabinets, air handling, and required shower-out procedure not only protect people from potential zoonotic diseases, but also help to protect the agricultural community by keeping threats contained. The Laboratory has 12 individuals who have passed the required testing to be able to perform the assay and they must follow standard operating procedures provided by the USDA. Like an emergency clinic, the Laboratory quickly updated an after-hours and weekend on-call list for this small group of employees, as animal health emergencies rarely occur during normal business hours.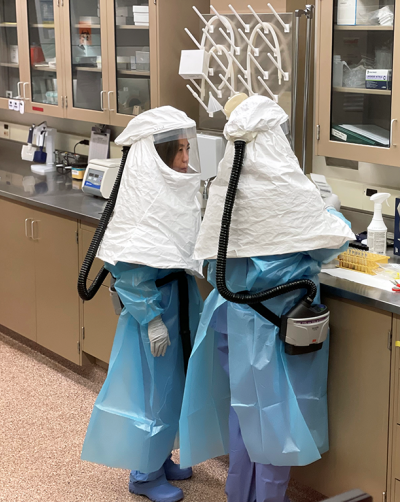 But of course, the people who are handling the samples and performing the testing aren't the only ones who are needed. Several others have been trained to complete the complex data entry to record receipt of the samples and to electronically report the results to the USDA after results are verified. Information technology programmers at the Laboratory helped to develop the system and ensure successful transmission.
Administratively, VDL leadership collaborated with USDA and Michigan Department of Agriculture and Rural Development partners in addition to Michigan Allied Poultry Industries as defenses for commercial and backyard flocks ramped up. To date, based on USDA information available through March 22, 2022, HPAI has been confirmed in domestic poultry in 18 states including Michigan and has resulted in the loss of more than 13.7 million birds.
"Acting quickly as foreign animal disease emergencies arise is a core part of our mission and critical to support a rapid disease response both nationally and locally, and I'd like to thank all the personnel throughout the Lab who contribute to those efforts," says MSU Veterinary Diagnostic Laboratory director Dr. Kimberly Dodd.
"So far, Michigan has been fortunate that detections of HPAI have been limited and that commercial poultry facilities remain unaffected. Regardless, the MSU VDL stands ready to respond to all potential cases of HPAI and to provide actionable test results as quickly as possible. It's part of our commitment to government agencies, industry partners, and the citizens of Michigan. We are your laboratory."