By: James Averill, DVM, PhD, MSU VDL Interim Director
Starting a new year, many of us want to put our best foot forward and leave the mistakes of the past behind us. We resolve to be better, do things better. While 2020 has been a trying year in so many respects, we have found ways to keep doing our work. In the spirit of helping you to make improvements in your veterinary practice in the new year, the Michigan State University Veterinary Diagnostic Laboratory would like to share our top 10 tips for making every sample submission count.
10. Saturday Delivery is NOT included in Standard Overnight Postage
Please note that Saturday delivery is NOT included in standard overnight postage. Packages shipped overnight on Friday will not be delivered to the Lab until the following Monday. Special "Saturday Delivery" postage is required. Call the Laboratory to order a Saturday label if needed.
9. Have a Question, Call the Laboratory
The MSU VDL is just a phone call away at 517.353.1683. Also feel free to visit our website (animalhealth.msu.edu). Our test catalog allows you to review detailed test information, including sample type and volume, turnaround time, collection protocol, and other details. Simply click on the test to obtain this additional information.

8. Don't Lose the Biopsy Sample in a Sea of Formalin
If you are sending very small samples like GI biopsies, submitting those in tissue cassettes is very helpful. Tiny samples can get "lost" in the jar. Looking for tissue cassettes? Let us know.
7. Clearly Label All Samples
The Laboratory sometimes receives samples that include multiple tissues in different containers, and nothing is labeled. It's important to clearly label each container with patient identification and specimen type so that each specimen is processed appropriately. Labeling is also important if there are many different animals in one submission!
6. Collect the Correct Sample Type & Amount
The MSU VDL sometimes receives the wrong specimen(s) for the test(s) requested. Don't forget to spin down blood samples and separate the serum or plasma prior to shipping samples for endocrine testing. And did you know that royal blue top tubes are required for trace nutrient testing? Submission of the wrong type of specimen or an insufficient amount often makes it impossible for the Laboratory to provide the requested testing and assure accurate, timely results. When in doubt, check the test catalog or call the Laboratory. We hate asking clients to recollect!
5. Ensure Optimum Sample Quality
Sample quality matters. Poor quality samples may impact the Laboratory's ability to perform the requested testing and/or may affect test results. The MSU VDL sometimes receives hemolyzed serum or plasma samples due to improper handling. Avoid hemolysis by centrifuging and separating serum or plasma prior to shipping, and don't forget to store samples appropriately. Again, please call the Laboratory or refer to the test catalog for information about collecting and handling samples.
4. Avoid Paperwork Problems
We get it. Paperwork and filling out forms are probably not your favorite things to do. And the clinic is busy and every minute counts. But incomplete and incorrect submission forms can slow down or hold up testing and we know you and your client are waiting for those results. Before forms get packaged with the samples, please take another look to make sure no important details are left out.
Common mistakes include no (or ambiguous) test requested on submission form, no form included with the submission, demographics not fully filled out (e.g. draw dates and times, patient age, breed, etc.).
Did you know that you can request submittal forms preprinted with your account information free of charge? It's a small thing, but it can save some time.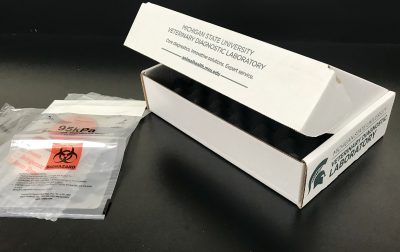 3. Ship Samples Using the Right Packaging and Best Delivery Method
Improper packaging or shipping can jeopardize submission quality. Tissue samples sometimes arrive severely autolyzed because the icepack in the box is insufficient (or there isn't an icepack at all!) and/or the samples are shipped in a non-insulated package. Any samples that are sent with an icepack should be sent overnight.
Don't forget to look at the shipping requirements for the test requested in the online test catalog. Does it need to be frozen prior to shipping? Does it need an icepack and an insulated box? Does it need to get to the lab within a certain amount of time after being collected? If you have trouble finding the information on the website, you can always call us, and we are happy to help.
Also check the MSU VDL website for important alerts about shipping delays or service interruptions and for information about shipping solutions to make sending samples as economical and easy as possible. Clients can call the Laboratory at 517.353.1683 to order mailers or overnight delivery labels.
2. Choose the Right Sample Containers
Did you know that gloves and whirlpack bags aren't an appropriate leakproof container for feces? Using the right container for the sample means that samples don't leak out into the box where they can contaminate other samples, submittal forms, or even worse contaminate the outside of the package.
There may also be specific container requirements for the samples you plan to send. For example, ear notches for bovine viral diarrhea virus testing must be submitted individually. And samples for culture need to be transported in a way to keep the potential pathogens viable. Those samples need to stay moist—do not submit tubes containing just dry swabs or small tissue punches for culture. Use a bacterial transport swab containing amies media or a sterile tube containing 500ml of sterile saline (NOT formalin).
1. More Information, Please!
One part of the submission form is so important that it deserves its own tip—HISTORY. More information about the patient gives diagnosticians a clearer clinical picture. This can help us provide a more accurate diagnostic interpretation of results.
Complete sample information and history (e.g. recent/current medications, treatments, vaccines, sample site) are important for all submissions but are especially important when written interpretations accompany the results (biopsies, cytologies, and endocrinology testing for example) to maximize the diagnostic interpretation. Let us know what you are looking for. We will often call if the history/description doesn't seem to match the tests requested.
The Bottom Line
The MSU VDL is here to make your work easier, not more complicated! Search the website (animalhealth.msu.edu) and/or test catalog for the information you're looking for but if you're ever unsure about what to submit, how to submit it, what to ask for, or how much it's going to cost so you can bill your clients correctly, please call us at 517.353.1683.