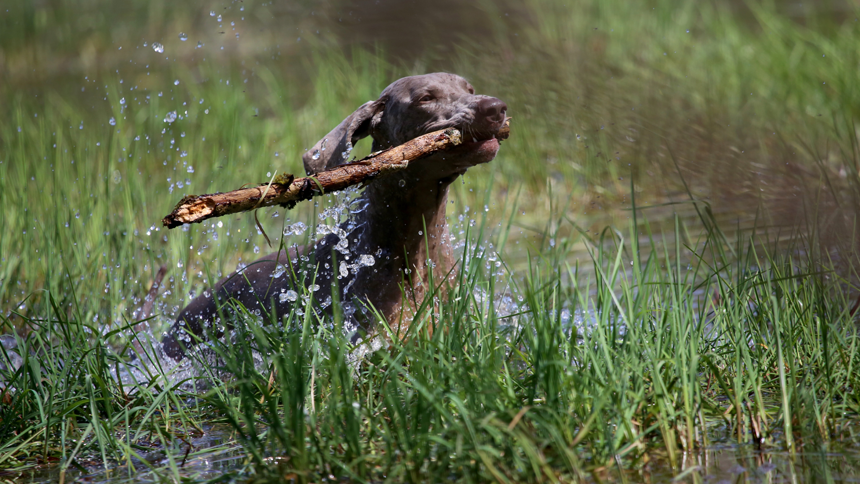 The warm weather of summer brings a potential for harmful algal blooms (HABs). HABs occur when cyanobacteria (also known as blue-green algae), which is commonly found in lakes, streams, rivers, and ponds, grows quickly and produces toxins. This commonly occurs when there is stagnant water, a high level of nutrients, and warm weather. These algal "blooms" often look like bright green paint has spilled over the surface of the water, but can be other colors too (e.g., blue-green, purple) and look like it has flecks, foam, or mats floating on it, depending on the type of algae and if it is alive or dying.
There are several types of toxins that can be produced; however, most commonly it's microcystin. These toxins have the potential to make people and animals sick and typically affect the liver or the nervous system.
Animals, especially dogs, typically get ill from HABs when they ingest water from toxin-containing water bodies. Animals may also ingest affected water when swimming. Symptoms can develop very quickly and may include lethargy, vomiting, diarrhea, drooling and seizures. This is an urgent situation, as death of the animal can occur rapidly depending on how much toxin is consumed.
An animal that has had contact with suspected or confirmed contaminated water should be taken to their veterinarian immediately for examination and possible treatment. Samples of fur and stomach samples may be sent to a veterinary diagnostic lab for diagnosis. The following measures are advised:
Clients and their pets should not swim or drink water from areas of water bodies that could have HABs in them. If most of the water body appears to be affected, they should completely avoid it.
Bathe a pet if it swam in suspect or known HAB-affected water.
Seek veterinary care if an animal may have ingested contaminated water.
Report suspect water bodies to the Department of Environmental Quality (now the Department of Environment, Great Lakes, and Energy) at 800-662-9278 or algaebloom@michigan.gov.
Ill clients should contact their physicians.
Algal toxicities in animals are reportable. Report a case by contacting the Michigan Department of Agriculture and Rural Development at 800-292-3939 or by completing and submitting a Reporting a Reportable Disease Form. So far in 2018, there has been one reported case of algal toxicity in animals. The case was in a dog that drank from a lake in Genesee County that subsequently tested positive for HABs.
More information on HABs can be found on the DEQ's (EGLE's) website.
Shared from the Michigan Department of Agriculture and Rural Development Animal Health Update: Issue 22, July 2018
HAB Handout for Veterinarians
HAB Handout for Animal Owners: Pets & Livestock