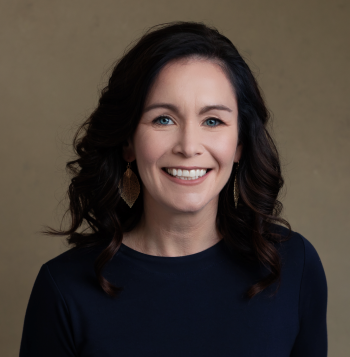 Kimberly Dodd, DVM, PhD, MS, has been named the director of the Michigan State University Veterinary Diagnostic Laboratory (VDL). She also is an associate professor in the Department of Pathobiology and Diagnostic Investigation. She will assume the role September 1, 2021.
Dodd comes to MSU from the United States Department of Agriculture's National Veterinary Services Laboratories where she was director of the Foreign Animal Disease Diagnostic Laboratory on Plum Island, NY. Prior to that, she was a senior scientist at Metabiota, where she led efforts to enhance laboratory capacity in Africa. Her background includes working with high-consequence zoonotic diseases including Ebola and Rift Valley fever viruses, among others, as a guest researcher at the Centers for Disease Control and Prevention's Viral Special Pathogens Branch. She has held adjunct faculty positions at Kansas State University and Iowa State University.
Dodd earned both her Doctor of Veterinary Medicine and PhD in comparative pathology from the University of California – Davis. She also earned a Master of Science degree in population biology from the University of Virginia.
Upholding and facilitating the VDL's mission and vision, including promotion of its standards of excellence and adherence to quality principles, will be a key focus. Dodd also will represent the VDL in interactions with state and federal agencies, animal industry groups and agricultural organizations, and national and state associations.
"During my time as the director of a federal reference laboratory, I saw firsthand the extraordinary contributions of academic veterinary diagnostic laboratories in support of animal and public health," Dodd said. "The MSU VDL is a leader in the field, with exceptional faculty and staff, and I look forward to leading the VDL and supporting an expansion of its mission and impact – locally, nationally, and globally."
Dodd has been a member of the USDA Animal and Plant Health Inspection Services' Science Committee and is recognized as an international expert in infectious disease research. She has earned awards for her work as a scientist and a leader, including the UC Davis Young Alumna award, the USDA Undersecretary Award for her efforts to develop a national animal vaccine stockpile, and the U.S. State Department Meritorious Service Award for her work in West Africa.
"Dr. Dodd brings unique experiences and strong credentials to the VDL and to the College of Veterinary Medicine's leadership team," said Birgit Puschner, dean of the College of Veterinary Medicine. "She is well-positioned to lead a nationally recognized veterinary diagnostic laboratory like the VDL and can expand its strengths and success."
Her professional interests include development of rapid detection methods for emerging and divergent viruses.
The VDL, a service unit in the College of Veterinary Medicine, is a premier, full-service, fully accredited veterinary diagnostic laboratory. Providing animal health diagnostics for Michigan and beyond, the VDL is an invaluable resource in identifying, tracking, and addressing emerging animal and public health issues. Faculty and staff at the laboratory work with national, state, and local officials to investigate and counter threats such as avian influenza, bovine tuberculosis, chronic wasting disease, West Nile virus, African swine fever and more.