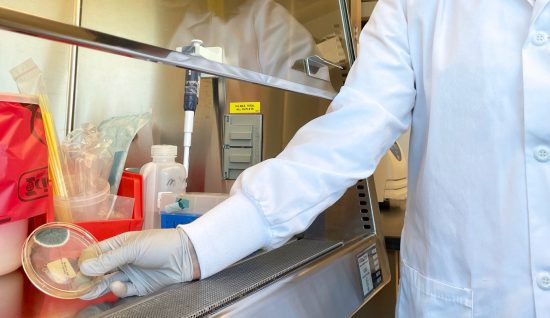 Have you ever wondered what happens to the samples that arrive at the Laboratory? Behind the tests offered in our catalog there is team of veterinary diagnostic professionals working to process the samples clients send to us. These professionals are committed to ensuring clients receive accurate and timely results for the tests requested. Read on to learn more about the expert team in our Bacteriology Section.
Meet Rinosh Mani, BVSc, MS, PhD, DACVM, MSU VDL Bacteriology Section Chief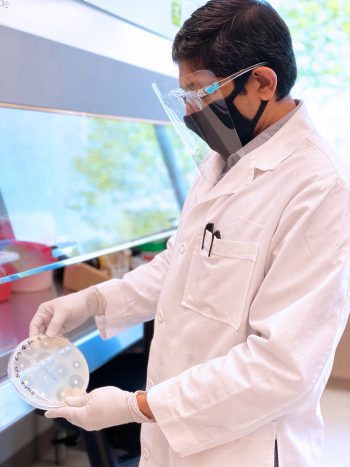 Q: What drew you to this career? How did you come to be at the MSU VDL?
A: Microbes, especially the ones that causes disease in humans and animals, have always fascinated me. In graduate school at the College of Veterinary Medicine at Oklahoma State University I was fortunate to do research on my favorite topic and it was during my PhD program that I was introduced to veterinary infectious disease diagnostics. After completing my board certification for bacteriology and virology from the American College of Veterinary Microbiologists, I joined the MSU VDL in 2015.
Q: What does your section do?
A: The Bacteriology Section performs a lot of traditional as well as molecular microbiology testing including culture, pathogen detection, and antimicrobial susceptibility testing. We help farmers and producers with surveillance testing for regulatory diseases and work with federal and state partners in monitoring animal diseases and antimicrobial resistance.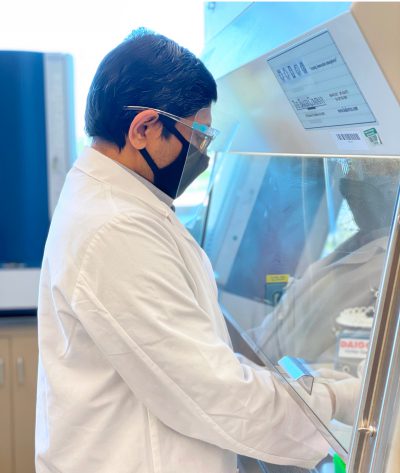 Q: What does a normal workday look like in your section?
A: At the MSU VDL we take pride in both the quality and quick turnaround time for testing. We are always busy, and our section has employees working seven days a week! This is mainly because bacteria never stop growing on our plates and require daily monitoring. Leptospirosis testing is one of our high-volume services and we are one of the few diagnostic labs in the country that does same day turnaround for leptospirosis microscopic agglutination test (MAT) five days a week.
Q: Are there any types of cases or tests that you find the most rewarding or interesting?
A: Difficult to diagnose cases, especially the ones that have a clear infectious disease pathology but fail to detect any pathogens, always interest me. We would love the opportunity to consult with the clinician and will always take the extra step in solving complicated microbiology cases.
Faculty Directory Profile: Mani
Perspectives from the Bench
Niesa Kettler, Laboratory Technologist Supervisor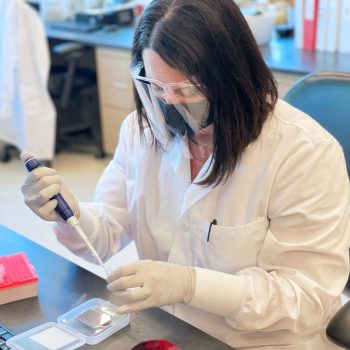 Q: What is your academic background/training?
A: While working toward my BS in microbiology at MSU, I completed my academic research requirement under Dr. Maes in the Virology Section and then was able to stay on as a student employee. After graduation, I was fortunate to secure a full-time position in the Bacteriology Section. While working in Bacteriology, I enrolled with the biomedical laboratory diagnostics program and completed the necessary coursework and internship to become certified as a Technologist in Microbiology by the American Society for Clinical Pathology.
Q: What aspects of your job do you enjoy the most?
A: I really enjoy the unique experiences that come from working in a veterinary diagnostic setting that is also part of a Big 10 university. We receive samples from a vast number of different species all over globe, and we also have opportunities to collaborate on fascinating research projects. No two days are the same.
Q: What part of your job is the most rewarding?
A: I love when we all pull together as a team to successfully face a unique challenge. The MSU VDL's biggest asset is definitely its people. When you mix this much talent and expertise with a "can do" attitude, some pretty amazing things can happen.
Amanda Kelly, Laboratory Technologist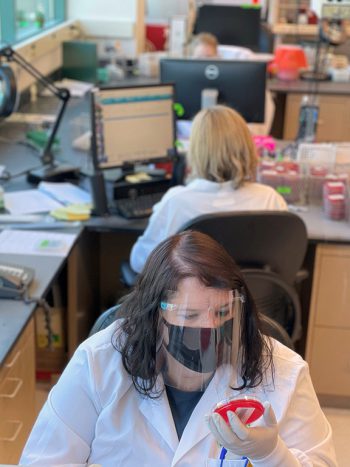 Q: What aspects of your job do you enjoy the most?
A: Getting answers for owners, farmers, clinicians, and researchers while promoting the health and welfare of all animal species. I also very much enjoy educating the public, all the cutting-edge research we do, and I love the variety of things we encounter on a daily basis here.
Q: Do you have a favorite test to perform or instrument to use?
A: MALDI (matrix-assisted laser desorption/ionization), that machine is a miracle worker. It gives us results within a few minutes and allows us to provide critical answers right away to our clients.
Q: Do you have animals at home? Tell us about them.
A: Lady Bug is a 10-year-old calico sphynx. For a sphynx she is actually very fuzzy, but has a completely naked belly, and like all calicos she is a talker. She sleeps with us at night and if the door accidently gets shut, she will loudly bang on it until we let her in. Originally, she was intended to go with a friend, however they changed their mind at the last minute, and I could not resist her cute little smudge nose, so she came to live with us. The breed is very prone to hypertrophic cardiomyopathy (HCM), so we use her to educate other sphynx and cat owners about the issue and encourage routine wellness checks and annual echocardiography scanning.
Michelle Brown, Medical Laboratory Technician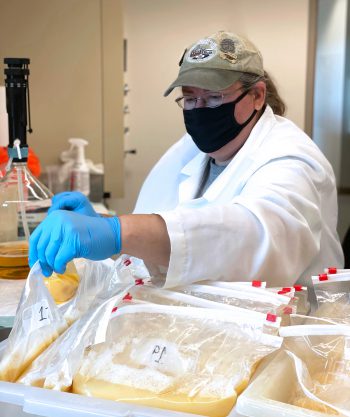 Q: What aspects of your job do you enjoy the most?

A: My job is unique—I could be doing paperwork, ordering supplies, or making the supplies to help keep our section moving forward and performing the tests the lab techs need to do. I am also able to run the culture testing for Johne's from start to finish and I find it interesting to tie together my dairy farm knowledge with the results I get from running this test.
Q: What part of your job is the most rewarding?
A: Working with my co-workers. They are another family to me, and we take care of each other. During the COVID-19 pandemic, we all continued to work together to maintain quality and quantity of products and services our clients need and expect.
Q: What motivates you to come to work every day?
A: This will be my 24th year with the MSU VDL as a full-time employee. I was recently asked by a friend if I would help her with a project for her 7th graders. Many kids believe that they want to work with animals, maybe as a veterinarian. I know how difficult that path can be for some, but I didn't want them to lose hope. I wanted to give them an idea of working in diagnostics because of the service it provides to the world as a whole: when you have healthy animals, you will have a healthy population of people. You are involved with protecting communities, livelihoods, or companions. The work we do is important and there is so much more to know and to learn about if you continue to reach forward.