Have you ever wondered what happens to the samples that arrive at the Laboratory? Behind the tests offered in our catalog, there is team of veterinary diagnostic professionals working to process the samples clients send to us. These professionals are committed to ensuring clients receive accurate and timely results for the tests requested. Read on to learn more about the expert team in our Endocrinology Section. More samples are processed, and more assays are performed, in this section than any other in the Laboratory!
Meet Brian Petroff, DVM, PhD | MSU VDL Endocrinology Section Chief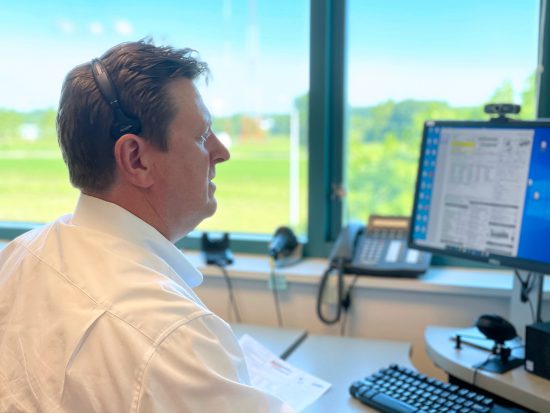 Q: What drew you to this career? How did you come to be at the MSU VDL?
A: I grew up working on a farm and became interested in what our veterinarians were doing – mostly reproductive endocrinology. I learned about the laboratory science behind endocrinology while a student. MSU is a leader in veterinary endocrinology so I ended up here.
Q: What kind of cases keep you up at night?
A: Emergency cases. Fortunately, there are not a lot of endocrine emergency cases, but they do occur.
Q: How does your animal health work impact human health?
A: We provide testing support for agricultural species and for researchers using animals as models for human disease. Of course, our work improves the health of pets which in turn promotes human health. Endocrine diseases are common in people and animals.
Q: What do you wish clients knew about the work performed in your section?
A: I am amazed by the continuity and memory within the section. Many of the people in our section, both DVMs and laboratory staff, have been doing veterinary endocrinology testing for a long time. The veterinarians who founded the section more than 40 years ago and assisted with the development of current veterinary endocrine testing still work here. The team and teamwork in the endocrine laboratory are impressive.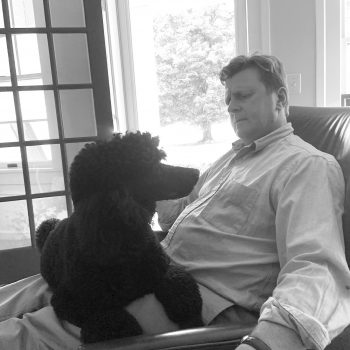 Q: Do you have animals at home? Tell us about them.
A: We have quite a few animals – dogs, cats, horses, poultry, and pocket pets. My closest pet is Oliver, a black standard poodle. He would like me to throw his ball all day long.
Faculty Directory Profile: Petroff
Sarah Jacob, DVM, PhD, DACVIM, Assistant Professor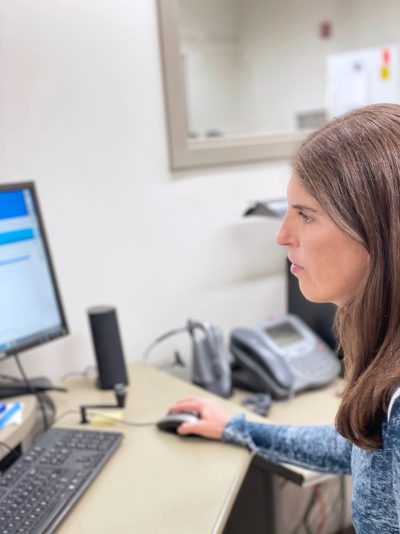 Q: Are there any types of cases or tests that you find the most rewarding or interesting?
A: I have a strong interest in all aspects of equine endocrinology. Understanding the factors contributing to the development of equine endocrine disorders as well as implementation of management strategies are particular interests.
Q: What aspects of your job do you enjoy the most?
A: The challenges and complexity of endocrinology and internal medicine cases. As a large animal internal medicine specialist, I enjoy implementing problem-solving skills to gain insight into the pathophysiology contributing to the animal's clinical signs.
Q: What part of your job is the most rewarding?
A: The day-to-day case variation and the opportunity to provide diagnostic service to clients from all over the world. There are some clinical cases that strongly correlate with the diagnostic test measurements, but other cases require more in-depth testing to arrive at a diagnosis. It is great to be able to work together as a team to improve animal health.
Q: Do you have animals at home? Tell us about them.
A: Winston is an 18-year-old Dutch Warmblood gelding. He is a retired show hunter who enjoys being outside, begging for treats, light exercise, and trail riding. He can be very vocal – nickering to get attention or whenever he hears my voice. He is quite the character with a kind and loving personality!

Enass Bassiouny, Laboratory Technologist Supervisor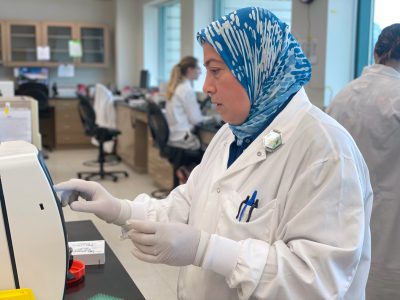 Q: What is your academic background/training?
A: I earned a Bachelor of Science in biochemistry and Master of Science in analytical biochemistry. In addition, I earned a certification as a licensed medical technologist from Faculty of Science, Alexandria, Egypt. I also completed a molecular laboratory diagnostics certificate here at MSU.
I joined the MSU VDL Endocrinology Section in 1998 as a lab technologist after working at St. Lawrence hospital's toxicology laboratory. In 2018, I was promoted to supervisor.
Q: What aspects of your job do you enjoy the most?
A: I like the people I work with—my team and I strive to make sure all assays run through the lab are performed accurately and efficiently.
I also really enjoy the technical aspects of my work like validating new assays to meet veterinarians' needs and to expand testing in our lab. We have several automated analyzers and I enjoy using them and troubleshooting when needed. I like to be challenged and it's fun for me to determine why a control or a sample isn't working as expected.
Overall, I feel like I contribute to a larger purpose.
Q: What part of your job is the most rewarding?
A: I learn something new every day and every day is different. Working with VDL faculty and staff is very rewarding, especially in the Endocrinology Section. We all help to solve some mysterious cases and work together to help our clients to piece together the full picture of health for their patients.
Q: Do you have animals at home? Tell us about them.
A: My family includes five bunnies, two cats, two birds (a love bird and a budge), two beta fish and two snails.
Perspectives from the Bench
Liz Herbst, Laboratory Technologist/Leader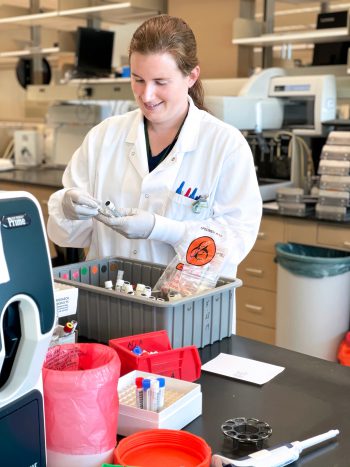 Q: What aspects of your job do you enjoy the most?
A: I enjoy the structure of the Endocrinology Lab. Workload will change day-to-day, but the overall end goal stays the same. I enjoy the multitasking and time management aspects. It feels great tackling large sample loads while still meeting our daily and weekly goals.
Q: What motivates you to come to work every day?
A: When you are in this line of work, animal health is always the number one priority and the greatest motivator. It is very rewarding to be able to help clinics diagnose endocrine disorders so that they can begin to treat an animal effectively. I also feel very fortunate to work with such a great group of hardworking and passionate people. "Teamwork makes the dream work" and I couldn't ask for a better team.
Q: What is your academic background/training?
A: I graduated from Michigan State University with a Bachelor of Science in zoology with a concentration in marine biology as well as zoo and aquarium science. Once I got hired into the VDL I worked in the receiving department before being promoted to the Endocrinology lab.
Casey Crimmins, Laboratory Technologist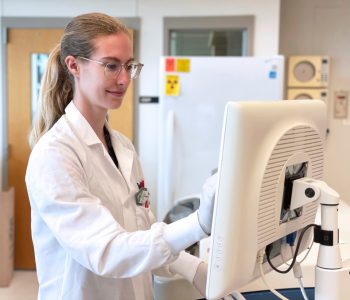 Q: What is your academic background/training?
A: I'm a Central Michigan University graduate with a Bachelor of Science in microscopy biology. I have a professional background in forensic microscopy while in the Chicago area for an internship and industrial hygiene microscopy in the Lansing region involving the analysis of building materials for asbestos content.
Q: Why did you pursue a career at the VDL?
A: MSU had always been a "dream spot" to work at for me. I love the variety and ever-advancing nature of biological work and the VDL made that all the better by aiding in the care of animals! The VDL provides the fast-paced laboratory environment I enjoy working in and is the ideal niche for a career.
Q: Do you have animals at home? Tell us about them.
A: Yes, I have an Entlebucher Mountain Dog named Milo! Entles, as they are nicknamed, are the 152nd most popular AKC breed, a herding variety bred to herd cattle in the Alps, and in the same family of Swiss Mountain Dogs as the Bernese. Milo certainly is a dedicated herder who is constantly circling and checking on his people when we are outside. He loves to cuddle as close as physically possible (when he's actually stationary) and play fetch with us for hours.
Angela Scott, Laboratory Technologist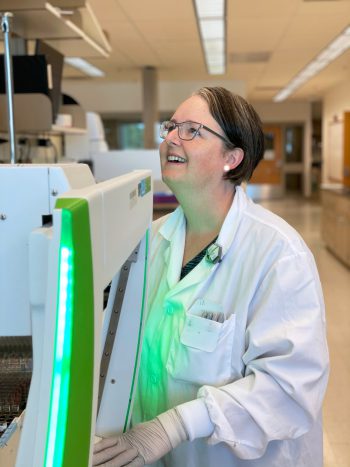 Q: What is your academic background/training?
A: I received a BS in biomedical laboratory science through MSU's biomedical laboratory diagnostics program (BLD). I pursued that degree because it's versatile and BLD prepares its students for a variety of different laboratory environments. I'm happy to still be on the campus of MSU working at VDL.
Q: Why did you pursue a career at the VDL?
A: I appreciate that we provide services not only for companion animals, but also for livestock, wildlife, exotic, zoo, and aquatic species. It's interesting to see how results vary from one species to the next. Also, I've always been interested in public health and it's been exciting to be a team member here at VDL and to participate in the One Health approach.
Q: What part of your job is the most rewarding?
A: We have a very dedicated team here in Endocrinology. It's quite rewarding to provide a STAT diagnostic service for a client with a sick animal and to hope that service contributes to a positive outcome.