Have you ever wondered what happens to the samples that arrive at the Laboratory? Behind the tests offered in our catalog there is team of veterinary diagnostic professionals working to process the samples clients send to us. These professionals are committed to ensuring clients receive accurate and timely results for the tests requested. Read on to learn more about the expert team in our Immunodiagnostics & Parasitology Section.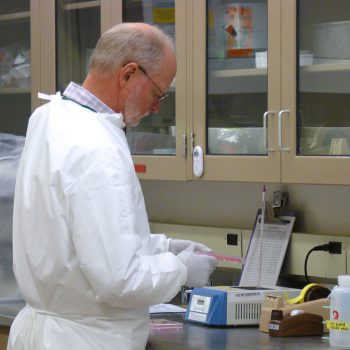 Meet Steve Bolin, DVM, MS, PhD Immunodiagnostics & Parasitology Section Chief
Q: What does your section do?
A: We perform vector-borne disease testing and do a lot of export testing for dogs and cats traveling to foreign countries. We also do tests for parasites and organisms that cannot be cultured. We have tests for zoo animals and wildlife. We do some parasitology, some bacteriology, some virology, and some immunology. We work with zoonotic agents and do several of our tests in a biosafety level 3 facility.
Q: What does a normal workday look like in your section?
A: We do not have a normal day, but a typical day starts before 8:00 a.m. with wrapping up overnight tests or starting the testing of samples that arrived late the day before. By 10:00 a.m. we are testing samples that arrived early today and that continues through to 5:00 p.m. We seldom know ahead of time what or how many samples will come to the lab that day, what species they came from, or how urgent the testing will be. Consequently, we triage, change plans, and move our staff around from one area of need to another all day long.
Q: Is there a piece of equipment/instrument in your section that you would like to highlight?
A: Yes, we have an old Tensor nightstand light that has loyally served the laboratory as the light source for all our immunodiffusion tests for over 40 years. Invaluable and irreplaceable. They do not make them like they used to.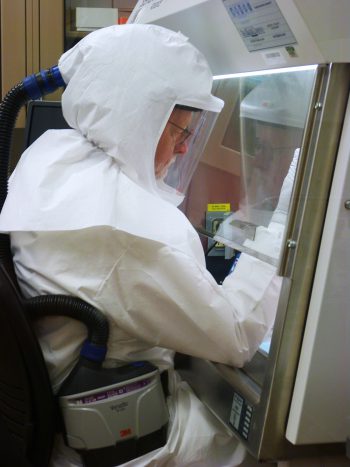 Q: Are there any types of cases or tests that you find the most rewarding or interesting?
A: The most interesting cases are the ain't doing rights and God only knows. For those cases, you get to throw the books away, create new tests, and see if you can solve the puzzle.
Q: Looking back at the last year, what are you most proud of for yourself, your team, the MSU VDL as a whole, or the veterinary profession?
A: For our laboratory section, to help MSU and do COVID testing for the on-campus collection site. There was a lot of teamwork involved and there were many obstacles to overcome in a relatively short period of time. We literally started with nothing; no reagents, no controls, no methods, and little knowledge of what it took to perform high complexity human testing other than we were not certified to do it. We had to beg, borrow, learn, and purchase; we did some reading, some bartering, and sought help from colleagues on the human side, who were very sharing.
Faculty Directory Profile: Bolin
Nicole Grosjean, LVT, Laboratory Technologist Manager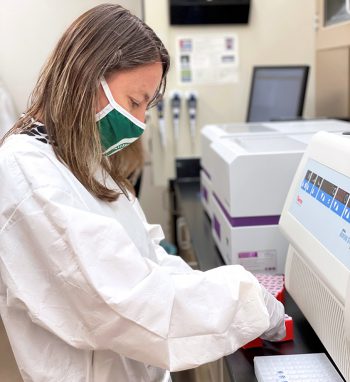 Q: What is your academic background/training?
A: I received my Bachelor of Science in veterinary technology from Michigan State University in 1999. I worked in private practice as a vet tech through school. After graduation, I took several part-time positions, including as a tech with a researcher at the College of Veterinary Medicine
and a lab tech at the VDL (at that time it was the Animal Health Diagnostic Laboratory). I eventually became a full-time technician at the Laboratory. All of those experiences provided me with the confidence to become a lab manager. Once I was in a diagnostic lab setting, I knew this is where I wanted to stay.
Q: What part of your job is the most challenging?
A: In addition to routine diagnostics, we are involved in regulatory, outbreak, reportable disease, and select agent testing. These cases require extra attention, as there are more stringent requirements for receiving samples, performing assays, and reporting cases to clients as well as the appropriate regulatory agencies. These agencies also require that we show proficiency on many of these assays which requires regular proficiency testing. Managing the staff, reagents, and facilities to accomplish both the higher demand testing as well as the routine diagnostic testing is always a challenge, but it is also one of the most rewarding as well.
Q: Do you have animals at home? Tell us about them.
A: We have a crazy Soft Coated Wheaten Terrier (Terror as we like to say) named Sofie. She is only a year and a half, and is a handful, but has the most personality I've ever seen in a dog. She enjoys watching horses, Animal Planet and TV for Dogs on YouTube, and loves to float around on her doggy-float in the pool!
Cari Lyon, LVT, Laboratory Technologist
Q: Why did you pursue a career at the VDL?
A: During college, I worked as a student employee at the Laboratory in Receiving, Endocrinology, and Parasitology. I loved working in a lab setting and hoped to get a job at the VDL. Following graduation, I was lucky enough to be hired in Parasitology full time.
Q: What part of your job is the most rewarding?
A: A big part of my day is dedicated to running fecal samples and looking for parasites under a microscope. Alternative methods are often used outside of VDL to look for these parasites, but our methods are gold standard. I love finding parasites, especially ones that are potentially easy to miss because I know that animal will get properly treated and healthy again.
Q: Do you have animals at home? Tell us about them.
A: I have two rescue Pit Bulls (Dexter and George) and a cat (Punkin). They all have completely different personalities that keep me smiling. I love to watch them learn from one another and thrive in their second chance at life. I encourage anyone who is looking to add a furry addition to their family to first check out their local shelter/rescues.
Lisa Kaloustian, Laboratory Technologist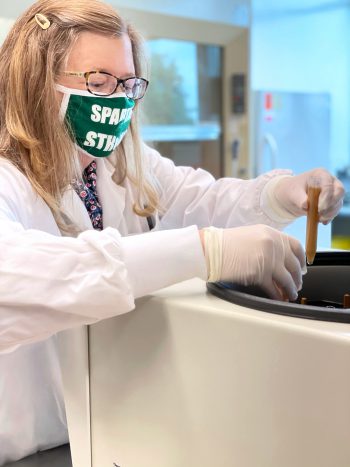 Q: What aspects of your job do you enjoy the most?
A: I really enjoy the parasites above all. It's the most challenging but rewarding thing I do. I have patience for identifying parasites, even if it takes hours or days of researching and there is a sense of satisfaction after solving the case.
Besides the parasite testing, I really enjoy our indirect antibody testing. You can see the florescence on the slides, which is quite pretty.
Q: What motivates you to come to work every day?
A: Knowing that the work I do goes toward the greater good for pets, farm animals, and wildlife.
Q: Do you have animals at home? Tell us about them.
A: I have two wonderful long haired chihuahuas. Rico, the male, is almost 12 years old and was rehomed to us. He is such a goofy guy and brings so much entertainment to us daily. Maggie, our female, may be a little younger than Rico. Her owner died and the family didn't have any info on her, so she was a mystery when we got her. Maggie is the clever one of the two. Neither of our dogs fit the nervous chihuahua stereotype that people often associate with the breed. They are very social and affectionate.