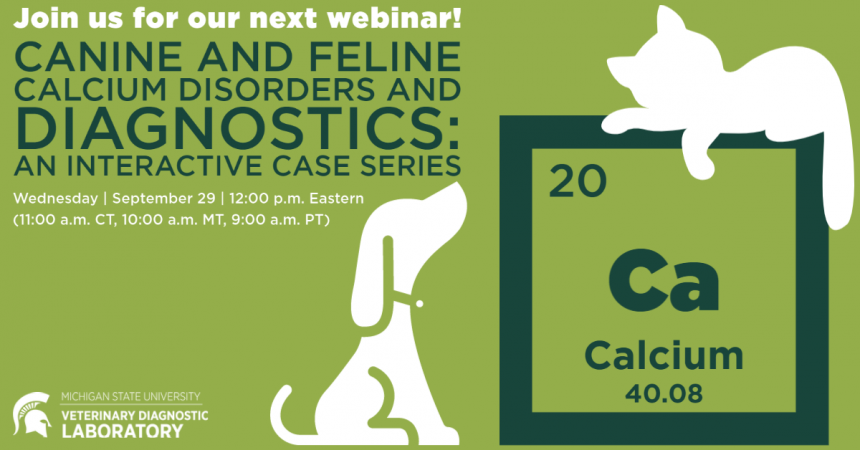 As part of the Michigan State University College of Veterinary Medicine, the MSU Veterinary Diagnostic Laboratory is committed to our mission to educate both future and current veterinary professionals. We have planned a series of webinars for 2021 to provide free continuing education options.
Please consider joining us for our next webinar!
Canine and Feline Calcium Disorders and Diagnostics: An Interactive Case Series
Wednesday | September 29, 2021 | 12:00 – 1:00 p.m. Eastern Time (11:00 a.m. Central, 10:00 a.m. Mountain, 9:00 a.m. Pacific)
Canine and feline calcium disorders are not rare, but they may not be seen frequently by general practitioners. This presentation will provide a brief overview of normal physiology, along with helpful algorithms to recognize the most common disorders and the most appropriate diagnostic options. This presentation also includes an interactive case review of some of the most common disorders seen by the Michigan State University Veterinary Diagnostic Laboratory's Endocrinology Section. Signalment, history, and calcium-related data will be presented, and participants can test their knowledge through questions and answers.

Presenter:
Jean Brudvig, DVM, MPH, PhD, DACVP (Clinical Pathology)
Academic Specialist, Endocrinology Section, Michigan State University Veterinary Diagnostic Laboratory
Host:
Kimberly Dodd, DVM, PhD, MS
Director, Michigan State University Veterinary Diagnostic Laboratory
Register
This webinar is free, but registration is required. A recording will be available to all who register. Please submit any questions to chapinco@msu.edu.