Dr. Cynthia Lucidi joined the Michigan State University Veterinary Diagnostic Laboratory as an Academic Specialist in Clinical Pathology on November 4.
Within the Clinical Pathology Section of the MSU VDL, Dr. Lucidi will work alongside the other clinical pathologists to provide support for clinical diagnostic testing. She will also assist in test development, with a focus on flow cytometry.
Dr. Lucidi earned her DVM at Federal Fluminense University in the state of Rio de Janeiro, and she completed a residency in veterinary clinical pathology and an MS in veterinary pathology at Sao Paulo State University in Brazil. She completed a specialization in experimental medicine at the National Institute of Cancer in Rio de Janeiro. Dr. Lucidi earned her PhD from Michigan State University in 2015 where her research included "Suspected precursor-targeted immune-mediated anemia in dogs." In 2019 she completed a residency in veterinary clinical pathology at the University of Wisconsin-Madison and became a diplomate of the American College of Veterinary Pathology, Clinical Pathology.
Her professional interests include the diagnosis and characterization of blood and bone marrow disorders, flow cytometry, assay development, and teaching/training house officers and veterinary students.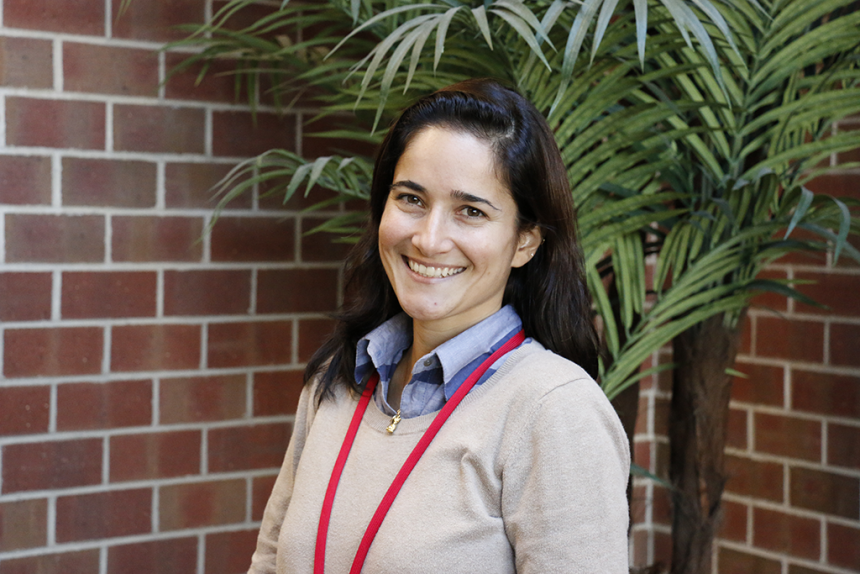 In Her Own Words: Meet Dr. Lucidi
Why did you choose to join the laboratory?
I moved to the USA during Fall of 2009 to pursue my PhD at MSU, and that was a huge breakpoint in my life. MSU became my home away from home, and I am incredibly grateful for the opportunities that appeared in my life after I became a Spartan. I am passionate about diagnostic service and contributing to patient care and wellness. The opportunity to return to MSU to work as a pathologist is a dream come true, since I get to work for an institution I love, doing what I love. I am excited to give back to MSU all that it has given me.
What do you look forward to in this new position?
I deeply enjoy interacting with clinicians to better understand the background information about the cytology and hematology samples they submit, to learn more about the clinical perspective and outcomes of the cases I review, and to share my perspectives as a clinical pathologist. I look forward to building relationships with our clients and to contributing to patient care. My main interests include flow cytometric testing and characterization of hematologic diseases. I am excited about the opportunity to develop new flow cytometric tests to be offered to our clients to help them diagnose hematologic conditions, such as IMHA and lymphoid neoplasms. Because of the Clinical Pathology Laboratory's relationship with the MSU Veterinary Medical Center, a tertiary care hospital, we also get to see a variety of unusual and interesting cases, and I look forward to sharing those cases with the veterinary community through case presentations and publications.
Is there anything else that you would like clients to know about your background as it relates to this new position?
Before moving to East Lansing in 2009 I worked in Brazil as a veterinary hematologist. During that time, I visited private veterinary practices to share information on bone marrow diseases and indications for bone marrow assessment. I collected and reviewed over 100 bone marrow aspirate samples in dogs and cats. Through that experience I have observed a variety of hematologic conditions, including infectious diseases, cases of hypoplastic/aplastic bone marrow, and leukemias, and have experienced the difficulties of collecting and preparing bone marrow samples of high diagnostic quality. I look forward to sharing my experience with bone marrow sample collection and preparation and diagnosis of hematologic diseases with our clients, as we join our efforts towards high-quality patient care.