By: Rinosh Mani, BVSc, MS, PhD, DACVM, Specialist and Section Chief, Bacteriology and Courtney Chapin, MA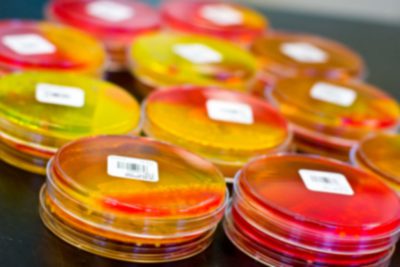 Many bacteria that cause disease in animals can also infect humans through regular, casual contact and others can infect humans through the food supply. State veterinary diagnostic laboratories, like the MSU VDL, routinely test samples collected from clinically ill animals for bacterial pathogens and often perform antibiotic susceptibility testing (AST) on isolated pathogens to determine which antimicrobial agents (antibiotics) will potentially be most effective. On average, approximately 5,000 antibiotic susceptibility reports are generated by the MSU VDL annually. Ensuring that the antimicrobial agent selected for treatment is effective and approved for use in that species is not only essential to ensuring successful treatment, but to helping to reduce or prevent the development of antimicrobial resistance (AMR) in bacteria due to inappropriate use of these important medications.
Currently in the U.S. alone, close to three million people are affected by and 30,000 deaths are attributed to drug-resistant bacterial infection, with future mortality predicted to be in the millions by 2050. Regulations for antibiotic usage in agricultural animals have been in place for a while, but it is only recently that their use in companion animals has received serious attention. While multiple drug resistant Salmonella sp. is a challenge in food animal medicine, pan-resistant Enterococcus faecium and Staphylococcus pseudintermedius have become a treatment nightmare in small animal medicine.
The Michigan State University Veterinary Diagnostic Laboratory (MSU VDL) has been partnering with the Vet-LIRN (Veterinary Laboratory Information Network, FDA) and the NAHLN (National Animal Health Laboratory Network, USDA) to monitor antibiotic resistant bacteria isolated from Michigan animals. These databases help in monitoring antimicrobial resistant trends over time. Since the start of the program MSU VDL has included 576 and 503 bacterial isolates to both the Vet-LIRN and NAHLN databases, respectively.
At the diagnostic laboratory, stewardship starts with decisions made on bacterial culture results. At the MSU VDL, advanced technology and tools are used to ensure accurate identification of organisms. Performing AST on an obvious pathogen is an easy choice; however, if multiple bacteria are isolated from a sample, it may be contrary to ideal stewardship practices to perform AST or to treat to eliminate all the bacteria reported on the culture results.
Ultimately the clinician is best positioned to decide which bacteria to run AST on and we encourage clinicians to consult with their diagnostic lab to make that important decision. At the MSU VDL, we welcome these opportunities to consult with clients and provide diagnostic recommendations. Clinicians can call the Laboratory at 517.353.1683 with questions.
Choosing the most appropriate antibiotic and dosage not only helps to resolve the infection and improve the patient's health, it also helps to protect other animals and humans from antimicrobial-resistant pathogens.
More Information for Veterinary Practitioners
Recently the American Veterinary Medical Association released a new resource for veterinarians: Antimicrobial-resistant pathogens affecting animal health. This includes a downloadable report as well as a poster, table, and species report cards for the following: dogs and cats, cattle, chickens and turkeys, fish and shrimp, horses, sheep and goats, and swine.
Visit the Bacteriology Section on the MSU VDL website for additional antimicrobial susceptibility testing resources including use of antimicrobial susceptibility data to guide therapy, susceptibility results of gram-negative isolates, susceptibility results of gram-positive isolates, antibiotic panels for AST on isolates from select species: dogs, cats, horses, and ruminants.
Posted: August 27, 2020