By Courtney Chapin, Kristen Lare on September 15, 2020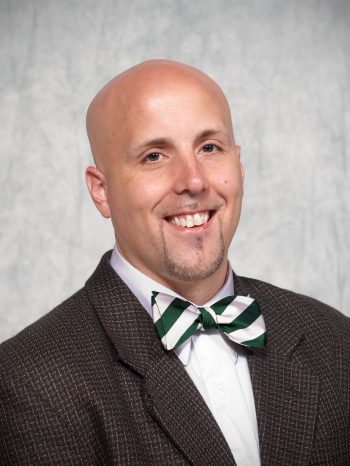 James Averill, DVM, PhD, has been named interim director of the MSU Veterinary Diagnostic Laboratory, effective September 14, 2020.
"Dr. Averill has a track-record of sound leadership, developing and nurturing stakeholder relationships, and guiding organizations forward using metrics and goals. The College is grateful to have him join the Veterinary Diagnostic Laboratory in this capacity and to have him as a member of the College leadership team," says Birgit Puschner, dean of the MSU College of Veterinary Medicine.
In his new role as interim director of the Veterinary Diagnostic Laboratory, Averill will provide leadership and administrative oversight for all activities. This includes upholding and facilitating the mission and vision, promoting the standards of excellence within laboratory sections, and adhering to the quality principles of the American Association of Veterinary Laboratory Diagnosticians. He will work closely with faculty, staff, students, clients, the general public, and the media, as well as other College colleagues. In addition, he will represent the Veterinary Diagnostic Laboratory with state agencies and national and state associations that promote public and animal health.
Averill spent more than a decade working for the Michigan Department of Agriculture and Rural Development, with the majority of that time spent as the state veterinarian and Animal Industry Division director and, later, as deputy director. In addition, he was the Pandemic Influenza deputy coordinator for the Michigan Department of Community Health, as well as adjunct faculty for the MSU College of Veterinary Medicine and advisor to the MSU Pre-Veterinary Medical Association.
"Throughout my career with the State of Michigan, I was committed to promoting and protecting animal health," says Averill. "I've seen first-hand how the expertise of the MSU Veterinary Diagnostic Laboratory proves invaluable in handling regulatory and reportable disease investigations as well as routine diagnostic cases. I have enjoyed the collaboration and partnership that I've had with the Laboratory in my previous roles and am looking forward to providing the leadership and direction needed at this time."
Averill earned his Bachelor of Science in veterinary science and his DVM at MSU. He then went on to complete a PhD in Epidemiology and Public Health from the Department of Large Animal Clinical Sciences at MSU. In addition to his interest in the intersections of veterinary medicine, public health, and epidemiology, Averill also raises Dorper sheep on his farm.
Averill will take over in an interim capacity for Dr. Rachel Reams, who is leaving the laboratory on October 23, 2020 to pursue a new professional opportunity. A national search for a permanent director of the MSU Veterinary Diagnostic Laboratory will begin in September 2020.