Please see our online test catalog for pricing, collection protocol, turnaround time, shipping instructions, and other important information for each of the tests described here.
Lymph Node Metastasis Panels
Lymphatic drainage from the primary tumor is recognized as one of the most common initial routes of metastatic spread for many different tumors, including mast cell tumors, malignant melanomas and various carcinomas. Accurately determining lymph node (LN) metastasis is essential for an accurate prognosis of these tumor entities. To detect individual neoplastic cells that are approximately 10 μm diameter, a 1 cm diameter LN would have to be sectioned 100 times, but current routine practices usually only examine a single section of excised nodes.
Following recommendations from human medicine, sectioning LNs at 0.2 cm intervals dramatically increases the likelihood of detecting overt metastatic disease. The combination of serial sectioning of LNs and special stains or immunohistochemistry (IHC) for specific cell types further increases the diagnostic sensitivity and overall accuracy of detecting metastatic disease.
The MSU VDL now offers three new LN metastasis panels that are specifically designed to examine draining nodes of canine cutaneous mast cell tumors, canine malignant melanomas, and canine and feline carcinomas, especially mammary carcinomas. Submitted LNs will be sectioned at 0.2 cm intervals and examined microscopically using specific stains/markers to identify neoplastic cells. This panel is also available for any other tumor entity by examining nodes at 0.2 cm intervals using regular HE stained sections only. Prices for these panels are based on the size of the submitted LN and the type of neoplasia.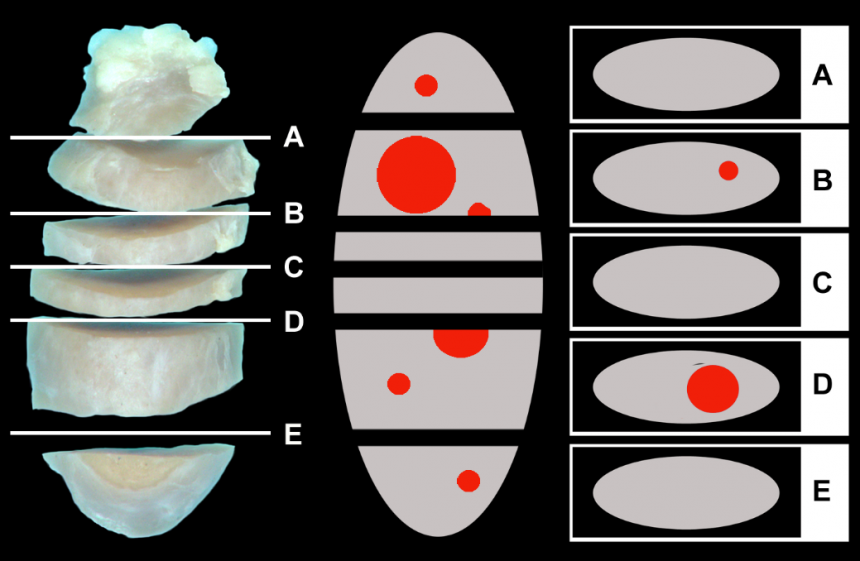 Histiocytic Sarcomas
A novel mutation was identified as a relevant oncogenic driver for Histiocytic sarcoma (HS). The MSU VDL offers a PCR test that can be performed on routine biopsy samples to detect this mutation. This test provides information about potential therapeutic targets for HS.
Canine Transmissible Venereal Tumor (TVT)
The diagnosis of transmissible venereal tumors (TVTs) in routine biopsies can be challenging, especially for TVTs developing in non-genital areas. While immunohistochemistry is useful, a large panel of antibodies is required to exclude other round cell tumors. The MSU VDL offers a PCR test that can detect this genetic alteration in routine biopsy samples, reducing diagnostic testing costs and increasing diagnostic accuracy.
Classification of Canine and Feline Mammary Tumors
Prognostication of canine and feline mammary tumors is largely based on histologic grading. Similar to human medicine, mammary carcinomas also can be classified based on hormone receptor expression and cellular differentiation. This classification has been shown to be highly prognostically relevant in both species, and information about hormone receptor expression provides additional information for potential therapies. The MSU VDL offers a panel (9 antibodies) that can be performed on any routine biopsy sample.
Expression of Tyrosine Kinase Receptors and Ligands
Tyrosine kinase inhibitors (TKIs) have become a major weapon in the arsenal of veterinary oncologists. The VDL offers an immunohistochemistry panel (8 antibodies) to determine the expression of proteins targeted by some of the most commonly used TKIs. This panel can be performed on routine biopsies of any neoplastic disease.
Next Generation Sequencing (NGS) to Detect Therapeutic Targets
The MSU VDL Canine Cancer Therapeutic NGS Panel can be performed on routine formalin fixed biopsies from canine cancer patients. Through targeted sequencing this panel detects mutations within 160 genes including major cancer drivers and drug targets all in a single assay.
By performing testing on both neoplastic cells specifically selected from the biopsy sample (to eliminate areas of inflammation and necrosis) and on normal tissue, the panel eliminates base pair changes representing canine polymorphisms and identifies relevant mutations. If no normal tissue is submitted with the initial biopsy, whole blood can be submitted.
Genetic alterations identified by this panel are used to provide targets for individualized therapy. This panel can also potentially identify biomarkers for cancer diagnosis and monitor for relapse or disease progression. Currently, this NGS panel is only offered for research-based projects, but official launch for practitioners is underway.
Learn More about our Biopsy Service and Molecular Diagnostic Panels