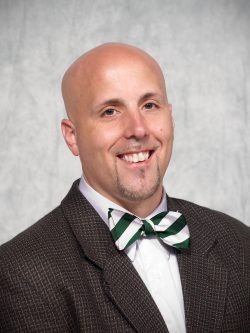 James Averill, DVM, PhD, has been named interim director of the MSU Veterinary Diagnostic Laboratory, effective September 14, 2020.
Averill spent more than a decade working for the Michigan Department of Agriculture and Rural Development, with the majority of that time spent as the state veterinarian and Animal Industry Division director and, later, as deputy director. In addition, he was the Pandemic Influenza deputy coordinator for the Michigan Department of Community Health, as well as adjunct faculty for the MSU College of Veterinary Medicine and advisor to the MSU Pre-Veterinary Medical Association.
Averill earned his Bachelor of Science in veterinary science and his DVM at MSU. He then went on to complete a PhD in Epidemiology and Public Health from the Department of Large Animal Clinical Sciences at MSU. In addition to his interest in the intersections of veterinary medicine, public health, and epidemiology, Averill also raises Dorper sheep on his farm.
For more details, please view our announcement.