By: John P. Buchweitz, PhD, DABT, Nutrition and Toxicology Section Chief
The year 2020 is off to a fast start and there are many changes occurring within the MSU VDL's Nutrition and Toxicology Sections. Some changes are more noticeable than others for our clients…here is a glimpse of what's going on.
Analytical Tests
The MSU VDL's Nutrition and Toxicology Sections are continuously evaluating current test offerings and listening to what our clients are requesting. Each day our veterinary clinicians and researchers are establishing a better understanding of animal health and nutrition. Accordingly, our section's philosophy is that we should remain strong in the tests that we currently conduct yet be flexible and ready to adapt to new knowledge. Whether it is expanding vitamin analyses, conducting fatty acid profiling, looking for key amino acids, assisting with therapeutic drug monitoring, interacting with researchers on environmental toxicology investigations, verifying accidental poisoning events, or using our creative genius to assist enforcement agencies with investigations of criminal animal abuse, we are committed to serving the broader animal health community.
New or Recently Added Tests:
Brain Sodium (test code 70069): Salt toxicosis often occurs with poultry and livestock that are deprived of adequate amounts of fresh water when the salt content of the diet is greater. For this test, we require one gram of fresh brain tissue that has been either refrigerated or frozen. Testing at the laboratory has been primarily conducted on cattle, pigs, and waterfowl. Other species may be amenable to this type of testing, but please call first to discuss.
Keppra (Levetiracetam) (test code 70057): Therapeutic drug monitoring for dogs and cats on anticonvulsant therapy. For this test, we require 0.5 mL serum collected in a red top vacutainer and separated. Trough samples are preferred.
Phosphine (test code 70063): This test has been moved from our GC-MS to our GC-MS/MS improving current sensitivity and specificity.
Polychlorinated Biphenyls (test code 70045): This test is offered on our GC-MS/MS and is specific to PCB congeners (not mixtures). We report on the following congeners to 10 ppb: #52, 101, 118, 126, 138, 153, 170, 180, 183, and 187.
Selenium Feed (test code 50201): Selenium is an important antioxidant mineral in animal feed. Selenium concentrations in feed greater than 0.1 ppm/head/day are recommended for most livestock and horses. We require 10 grams of feed that is representative of a batch or lot. We have recently adjusted our detection limits to 0.05 ppm to ensure that values reported were well within our instrument's performance capabilities and meet the needs of the animal industry.
Serum Zinc (test code 70060): Zinc toxicosis has been widely reported in birds of all types and dogs with known exposure to environmental sources of zinc metal. For this test, we require 0.5 mL serum or plasma collected in an additive-free royal blue top vacutainer.
Zonisamide (test code 70056): Therapeutic drug monitoring for dogs and cats on anticonvulsant therapy. For this test, we require 0.5 mL serum collected in a red top vacutainer and separated. Trough samples are preferred.
New or Returning Tests Coming Soon:
Cyanide: Testing will be conducted by GC-MS/MS and involves headspace analysis of suspect samples.
Fatty Acid Profiling: We are currently able to measure over 50 different fatty acids present in serum. This test may be of value to nutritionists and researchers evaluating the effects of diet on animal health. Please contact the lab to arrange testing.
Serum Aluminum: Adverse effects due to the accumulation of serum Aluminum have been reported in the literature as associated with known environmental and medical exposures in dogs.
Serum Lithium: Lithium has been used for the treatment of dogs with cyclic hematopoiesis and estrogen-induced myelotoxicity. Therapeutic drug monitoring may be necessary for dogs that are treated clinically with lithium carbonate to ensure the drug is reaching optimal concentrations (0.5 – 1.8 mmol/L).
Vitamins: We are working on two new vitamin assays, serum Vitamin C and Vitamin B (B1, B2, B3, B6, B8, B9, B12). This will have added benefit to both companion and production animal health assessments.
Equipment
In much the same way that we celebrate the retirement of personnel and the welcoming of new faces to our sections, we also say goodbye to equipment that has served us well through the years and celebrate new technology that advances our sections into the 21st century.
First, we'd like to thank the U.S. Food and Drug Administration's Veterinary Laboratory Investigation and Response Network (FDA Vet-LIRN) program for funding our grant proposal to obtain an ABSciex Tandem Quadrupole Mass Spectrometer (pictured below) for liquid chromatography applications. This is, without a doubt, a giant step forward in propelling our work with the laboratory's vitamin testing and therapeutic drug monitoring to the next level. It also provides another tool for supporting the mission of FDA Vet-LIRN to build veterinary diagnostic capacity for routine and emergency responses.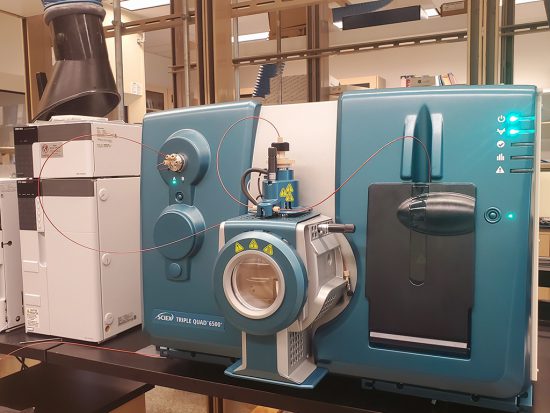 For most clients, however, the impact of our next acquisitions will be most notable. We have recently added a MARS6 microwave digester that will replace our traditional overnight oven digestion of samples. This technology affords us a speedy one hour and equally complete digestion of tissues, feeds, and other matrices. As we expect that this will enhance sample preparation time we have parted ways with our Inductively Coupled Plasma Optical Emission Spectrometer (ICP-OES) which had less sensitivity and added a second Agilent Inductively Coupled Plasma Mass Spectrometer (ICPMS) for mineral analysis (pictured below). This duplication of equipment is anticipated to provide more seamless service to our clients and maximize our capabilities in mineral diagnostics across the board.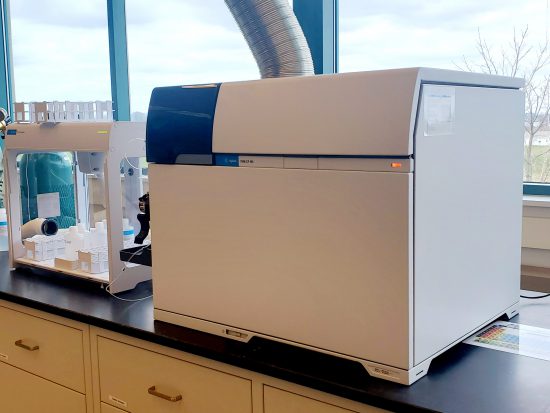 Personnel
The Nutrition and Toxicology Sections welcomed a few new faces this last year. Alex Williams and Jacob Lee were recently hired as prep techs. Both Alex and Jacob are going to provide steady support to the lab in preparing samples for analytical testing across a wide range of services in minerals and organics. They join Holly Holewa as part of a team of technicians that serve as the backbone for everything that we do to ensure quality, reproducible results from the moment your sample arrives in our lab.
Last but certainly not least, some clients may have already noticed another new addition to the sections. Yes…MSU CVM's Dean Birgit Puschner has also joined forces with the lab to provide interpretative support to analytical results and consultative direction for our clients. Dean Puschner is a Diplomate of the American Board of Veterinary Toxicology (DABVT) and brings a wealth of experience from her previous roles at the University of California Davis CAHFS Laboratory.
For More Information
Additional information is available on the MSU VDL website at animalhealth.msu.edu where you can learn more about:
iodine testing
mineral diagnostics
nutrition diagnostics for dairy cattle
vitamin A and E diagnostics
MSU VDL liver mineral reference ranges
bone marrow diagnostics
general organic compounds screen
glomerular filtration rate
sample selection and MSU VDL tests for differential diagnosis of toxins that cause CNS excitation
testing protocol and sample handling
Visit the Nutrition and/or Toxicology Section to take a deeper dive. For complete information about Nutrition or Toxicology tests, specimen requirements, or submittal procedures, please visit the MSU VDL's catalog of available tests. Don't hesitate to call the laboratory at 517.353.1683 if you have any questions.
Spotlight on a New Online Resource
We recently added a new document to help answer one of the most common questions clients ask the Toxicology Section—what can you test for? We compiled a list of compounds reported by our section over the last seven years. Access Compounds Detected by GCMS Screen to learn more.