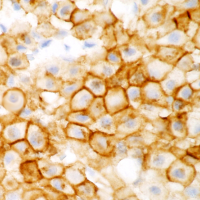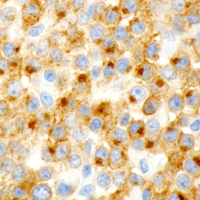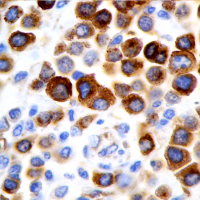 The prognosis of canine cutaneous mast cell tumors (MCTs) begins with grading using a two-tier system of low and high grade that was developed by our laboratory. This two-tier system has been shown to be highly predictive of prognosis as well as to have very low interobserver variation compared to the previously used three tier Patnaik system. Immunohistochemical (IHC) and PCR testing can then provide additional prognostic information and assist in determining treatment strategies. The MSU VDL offers these additional tests in the form of a mast cell tumor prognostic panel.
The panel includes cell proliferation analysis (Ki-67, AgNORs), c-Kit PCR to detect internal tandem duplication (ITD) mutations in exon 11 and exon 8, and KIT immunohistochemistry to analyze expression of this tyrosine kinase receptor. The complete panel is recommended for all low grade mast cell tumors. PCR testing is recommended for all high grade mast cell tumors, and, if negative, IHC for KIT protein is recommended.
Scientific Basis of the Prognostic Panel
Immunolabeling for Ki-67 determines the number of proliferating cells. The number of AgNORs correlates with the speed of cell proliferation. Research indicates that neoplastic cell proliferation activity cannot reliably be predicted using a single measure, but prognoses developed from this combination of tests are highly correlated with survival and metastasis. In addition, multiple studies have shown that additional local therapy is not necessary for MCTs with dirty or narrow margins that have low proliferation indices.
ITD mutations in exon 11 of c-Kit have been detected in about 20 to 30 percent of canine cutaneous MCTs. MCTs with such mutations are highly aggressive, but respond to tyrosine kinase-inhibiting (TKI) therapies. ITD mutations in exon 8 of c-Kit are less common and have been detected in two to five percent of canine cutaneous MCTs. These tumors are expected to respond to TKIs but no association with prognosis has been shown. In addition, aberrant KIT expression patterns characterized by increased intracytoplasmic labeling and loss of membrane-associated labeling have been linked with decreased survival.
MCT grading, cell proliferation analysis, c-Kit PCR, and KIT IHC results are all linked to MCT-associated survival and metastasis. While each test can be run independently, prognoses developed from interpretation of all tests offer the highest level of certainty.
Sample Submission
All tests can be performed on routine formalin-fixed biopsy material as well as previously submitted biopsy samples. Alternatively, clients can request to have another pathology service submit the paraffin block or unstained slides to our laboratory if the tissue was originally processed elsewhere.
For More Information
Please contact the Anatomic Pathology Section at 517.353.1683, visit our catalog of available tests, and/or view the resources below.