The Michigan State University Veterinary Diagnostic Laboratory (MSU VDL) is a member of several federal networks charged with protecting human and animal health. Active collaboration and partnership with other member laboratories as well as the federal agencies managing these networks enables the MSU VDL to contribute to animal health protection efforts nationwide.
Combating Antimicrobial Resistance
A number of bacteria that cause disease in animals can also infect humans through regular, casual contact and others can infect humans through the food supply. State veterinary diagnostic laboratories, like the MSU VDL, routinely test samples collected from clinically ill animals for bacterial pathogens and often perform antibiotic susceptibility testing on isolated pathogens to determine which antimicrobial agents will potentially be most effective. The MSU VDL's Bacteriology Laboratory performs approximately 24,000 cultures, susceptibilities, and isolate identifications per year. Ensuring that the antimicrobial agent selected for treatment is effective and approved for use in that species is not only essential to ensuring successful treatment, but to helping to reduce or prevent the development of antimicrobial resistance (AMR) in bacteria due to inappropriate use of these important medications.
AMR is widely considered to be one of the greatest threats to human and animal health. Two federal networks, the National Animal Health Laboratory Network (NAHLN) and the Veterinary Laboratory Investigation and Response Network (Vet-LIRN) have current projects focused on AMR. The MSU VDL is working with both projects.
The MSU VDL began participating in the Vet-LIRN AMR whole genome sequencing project in January 2017 and entered the second phase of that project in July 2018. In the first phase, the laboratory collected monthly the first four isolates of Salmonella (from any host), Escherichia coli (from dogs), and Staphylococcus pseudintermedius (from dogs). In the second phase, the laboratory will continue to collect the phase one isolates , as well as the first 12 other isolates for which it conducts antibiotic susceptibility testing each month, excluding isolates collected for the NAHLN project.
The MSU VDL has been one of 19 veterinary diagnostic laboratories participating in the United States Department of Agriculture (USDA) Animal and Plant Health Inspection Service (APHIS) AMR pilot project. The NAHLN project focuses on specific bacteria in particular species: Escherichia coli (cattle, swine, poultry, horses, dogs, cats); Salmonella enterica (cattle, swine, poultry, horses, dogs, cats); Mannheimia haemolytica (cattle); and Staphylococcus Intermedius group (dogs, cats). Data collection for Year 1 of the NAHLN pilot project will conclude at the end of December 2018.
The goal of both projects is to develop an antimicrobial resistance surveillance program to follow AMR trends in bacteria of veterinary importance, which includes establishing a "bank" of representative bacterial isolates and associated AMR data. Tracking AMR data from routinely isolated pathogens across the United States and collecting isolates into a centralized data bank has the potential to help protect both humans and animals. This is because a centralized data collection and reporting process means data can be monitored for trends in antimicrobial resistance to help identify new or emerging drug-resistance profiles and to help monitor the usefulness of antibiotics over time.

Protecting Animal Foods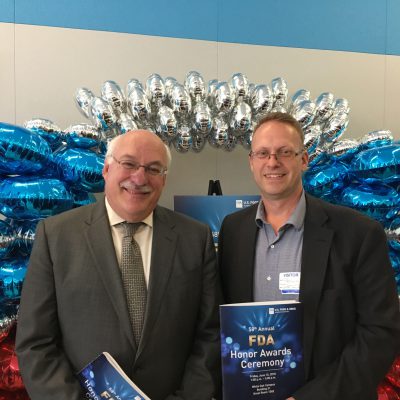 In late May 2018 the U.S. Food and Drug Administration, Center for Veterinary Medicine (FDA CVM) recognized more than 20 FDA employees, two employees from the Oregon State Veterinary Diagnostic Laboratory (OSVDL), and three employees from the MSU VDL's Toxicology Laboratory with an FDA Group Recognition (Agency Crosscutting) Award. The award was given because of the individuals' contributions to a pentobarbital in pet food investigation and recall.
Toxicology samples from a dog submitted for necropsy were collected by the OSVDL and submitted to the MSU VDL for testing. When the MSU VDL identified pentobarbital in both the dog's stomach contents and in the food can residue, Dr. John Buchweitz, toxicology section chief, notified the OSVDL and worked closely with the FDA field agent. The ensuing investigation involved collaboration among the three organizations and ultimately led to a recall of contaminated pet foods that could have posed a risk to other dogs nationwide. In addition to Dr. Buchweitz, Dr. Andreas Lehner, analytical chemist, and Margaret Johnson, toxicology laboratory manager, were also recognized as a part of the award group.
"These two recent examples of our partnerships and involvement with the federal networks of which we are a member illustrate the importance of the work that is done at the MSU VDL and across the nation to help protect animal health," says Rachel Reams, director of the MSU VDL. "Because animal health and human health are so closely connected, our efforts often benefit people as well. The laboratory's everyday diagnostic caseload means that veterinarians and animal owners across the country get the results they are counting on and we are prepared to step up at a moment's notice when the need arises."

About the NAHLN and Vet-LIRN
The National Animal Health Laboratory Network (NAHLN) is a cooperative effort between two USDA agencies and the American Association of Veterinary Laboratory Diagnosticians. The goal of the NAHLN is to provide a nationally coordinated network of federal, state, and university-associated laboratories that provide animal health diagnostic testing to detect biological threats to the nation's food animals, thus protecting animal health, public health, and the nation's food supply. In October 2017, the MSU VDL was awarded Level 1 laboratory status in the NAHLN and retained Level 1 status for 2018. Out of 51 total member laboratories in 2018, only 15 were awarded Level 1 status.
The MSU VDL is also a member of the FDA's Veterinary Laboratory Investigation and Response Network (Vet-LIRN) whose mission is to promote human and animal health by collaborating with veterinary diagnostic laboratories in order to provide scientific information, build laboratory capacity for routine and emergency response, and train scientists; as well as helping the Center for Veterinary Medicine (CVM) investigate potential problems with CVM regulated products such as animal feeds and animal drugs. The network provides the means for rapid response to reports of animal injury and establishes protocols to facilitate veterinary diagnostic reporting to FDA.
In addition to the NAHLN and Vet-LIRN, the MSU VDL is a member of the Laboratory Response Network (Centers for Disease Control and Prevention), and the Food Emergency Response Network (USDA-FDA). Participation in these networks positions the VDL to assist other State or Federal agencies in the event of a biologic threat or to threats to food safety that may impact humans and animals.