Skin issues are some of the most common presenting complaints of pet owners. You may decide to take skin biopsies because of an unusual presentation of skin lesions, skin lesions that are failing to respond to appropriate treatment, or for histologic confirmation of expected disease. Accurate histopathologic interpretation of skin biopsies requires an individual with a strong familiarity of the organ. At the MSU VDL, pathologists with a dedicated interest in skin are available to meet your dermatopathology needs.
Making the Most Out of Your Skin Biopsies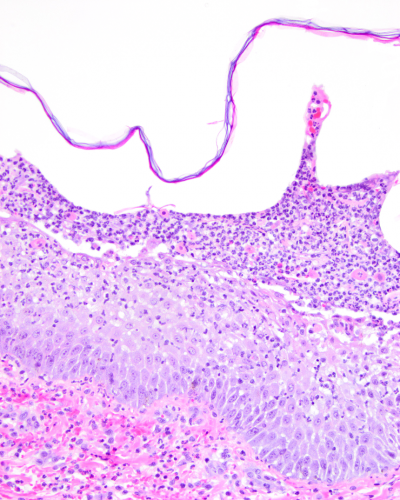 Please indicate on the MSU VDL sample submission form that the case is for dermatopathology review. When submitting your cases, keep in mind that the more you provide to your pathologist, the more the pathologist can provide to you. The following are general guidelines for receiving the most accurate diagnosis/interpretation of your dermatologic submissions:
A thorough clinical history is essential. This includes information such as the location of the lesion or distribution of the lesions, description of the lesions (crusts, papules, edema, erythema, etc.), duration, current and past treatment, and responses to treatment.
Tell us what your primary differentials are, and what you are expecting to obtain from the biopsy specimen(s).
Please indicate clearly where the biopsies were taken on the animal.
Well-developed, non-chronic lesions will often contain the most diagnostic information. Avoid sampling the center of ulcerated regions.
For punch biopsies, 6-8mm punches are preferred unless 4mm is your only option.
Submitting three to four punches for histopathologic review is preferred, unless the lesion is very localized.
Taking an ellipse of the skin rather than a punch biopsy may be helpful in cases with a sharp line of demarcation between affected and non-affected areas, cases of alopecia, or cases of suspected vasculitis.
If labeling of the specimens is necessary, placing them in separate jars or separate cassettes is recommended. While tongue depressors may be used to prevent folding of thin specimens, they are not recommended for labeling as specimens often fall off in transit.
Most skin biopsies can be taken with just local anesthetic.
Do not prep the skin, as crusts or fragile pustules are critical for some diagnoses (see Figure 1). If the crust falls off during sampling, place the crust in the formalin and indicate that on the submission form. If you must clip the hair, do not touch the clipper blade to the skin surface.
Photographs of the animal and affected areas (see Figure 2a) are welcomed and much appreciated, as they provide correlation between histopathologic changes (Figure 2b) with clinical findings. Hard copies of photos can be attached to the submission form. Digital images can be submitted to dermpath@cvm.msu.edu.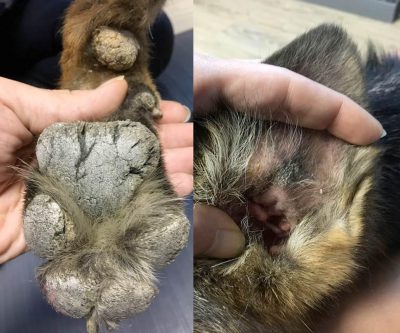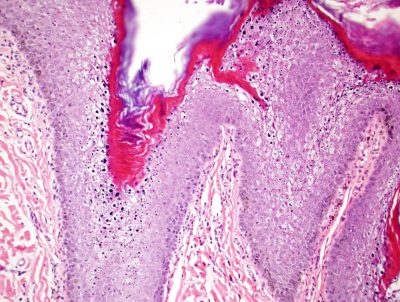 Tissue Processing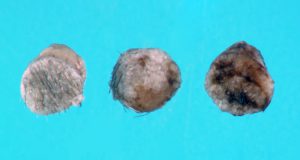 Submitted formalin fixed punch biopsies (Figure 3a) are bisected in the direction of the hair growth (Figure 3b), processed, and completely embedded on edge in paraffin blocks.
Five (5) micrometer sections of the embedded tissues are then placed on glass slides and routinely stained with hematoxylin and eosin before arriving to your pathologist for examination.

Special Stains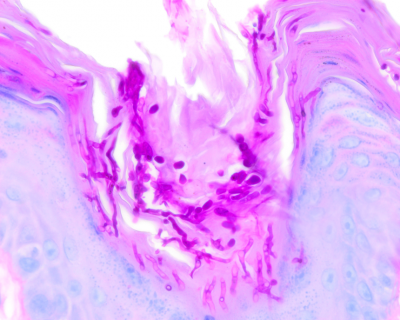 While, in general, culture is more sensitive at detecting infectious agents, the MSU VDL offers a number of special histochemical stains to aid the pathologist in detecting suspected microorganisms (see Figure 4). This testing will be performed at the pathologist's discretion at no additional charge to your clients.
Immunohistochemistry and PCRs
Challenging cases may demand testing beyond histochemical staining and light microscopy. The MSU VDL has an unrivaled array of immunohistochemical markers as well as pathologists with the expertise to decide
appropriate additional testing and interpretation of such testing. For example, in cutaneous lymphoma (Figure 5a), immunohistochemical markers (Figure 5b) can be used to phenotype the lymphoma (T- vs. B-cell) for treatment purposes or, alternatively, immunohistochemistry and PCR for antigen receptor rearrangement (PARR) may be recommended by your pathologist in order to confirm that there is a neoplastic population in the specimen in early or inflamed cutaneous lymphomas. This testing is available at the MSU VDL and can be performed on the formalinfixed biopsy specimens submitted for histopathologic examination for an additional fee.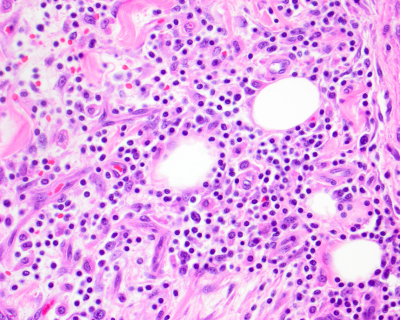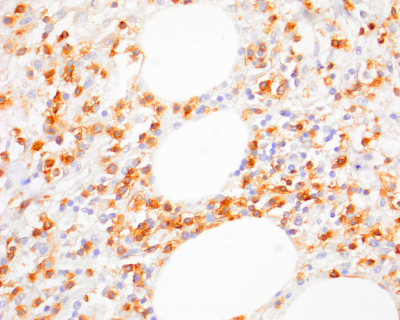 Culture and Sensitivity
If an infectious process is suspected, you may want to take an additional skin punch for macerated tissue culture at the same time as your biopsies for histologic examination. This will avoid an additional potentially stressful procedure for your patients and the inconvenience of an additional trip to the veterinarian for your clients. The MSU VDL has a full service bacteriology section. For our laboratory, if multiple cultures are warranted (aerobic, anaerobic, mycobacterial, and fungal), one (1) 5mm punch is a sufficient amount of tissue for bacterial cultures; however, submitting an additional skin punch for fungal culture will yield the best results. Tissue can be submitted at the same time as your biopsies. If mailed to the laboratory in the same container as formalin fixed tissue, fresh tissue for culture should be double packaged separate from the formalin container to prevent sterilization of the fresh tissue by formalin fumes and submitted with ice packs to keep the tissue cool. Please indicate on the form if you would like cultures to proceed immediately or if you would like us to hold the fresh tissue until we know if biopsy indicates culture.
Second Opinions and Collaboration
Besides receiving a detailed microscopic description and interpretation of your submitted specimens, an advantage of submission of your skin biopsies to the MSU VDL surgical pathology service is our bimonthly dermatology/dermatopathology round sessions. Any challenging or unique cases will be discussed with a group of dermatologists.