For 44 years, the Zoo and Wildlife Service has provided care to hundreds of animals across the state of Michigan, both in zoos and in the wild. Among the more challenging and memorable cases was surgery to remove a rock lodged in an elephant's throat, and cancer treatments for an elderly lion.
Due to recent changes in our Wildlife Service, the Hospital can no longer care for zoo and wild animals on an inpatient basis. We will direct any wildlife cases to our trusted and valued partners at Wildside Rehabilitation Center and the A.R.K Association to Rescue Kritters. There also are several more Licensed Rehabilitators through the Michigan Department of Natural Resources that we would be happy to recommend.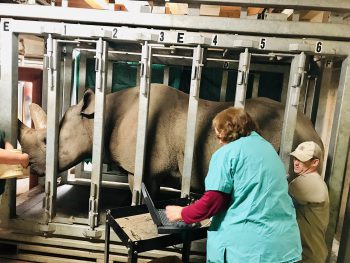 We are still able to offer a variety of specialty services to animals presented through the above-mentioned rescue centers on an outpatient basis.
Thanks to our partnership with Potter Park Zoo in Lansing MI, and Binder Park Zoo in Battle Creek Michigan, we are still able to provide intensive care and support for zoo animals, such as kangaroos, rhinos, and lions. Though this also is on an outpatient basis only, we look forward to continuing our work with the zoos and helping to care for their animals.
"Providing proper care to local wildlife and exotic animals at zoos is vital to preserving our ecosystem and training the next generation of veterinarians."

– James Sikarskie, DVM, MS, DACZM, Professor Emeritus