Changes to the MSU Veterinary Medical Center's Wildlife Service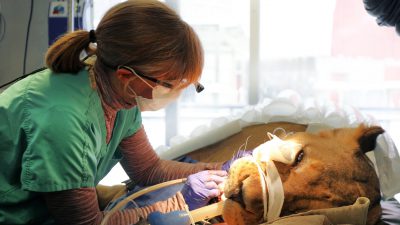 If you think your exotic pet needs to be seen by a veterinarian, please call the MSU Small Animal Clinic prior to bringing them in to make sure we can care for them.
Due to recent changes in our Wildlife Service, we are equipped to help treat and recover injured or sick wild animals like birds of prey, foxes, coyotes, wolves, and more, on an outpatient basis only. Since the Service can no longer treat these animals as inpatients, we will help treat them as outpatients with one of the recommended clinics below:
Thanks to our partnership with Potter Park Zoo in Lansing MI, and Binder Park Zoo in Battle Creek Michigan, we are still able to provide intensive care and support for zoo animals, such as kangaroos, rhinos, and lions. Though this also is on an outpatient basis only, we look forward to continuing our work with the zoos and helping to care for their animals.