The MSU Veterinary Medical Center has two oncology services -- medical and radiation – and both are a significant component of our patient services.
Due to unplanned faculty vacancies, we are temporarily unable to accept new patients for medical oncology. This decision will enable us to ensure continuity of care for current medical oncology patients. We are working with other veterinary oncologists in the state to refer new patients for the best possible care in the meantime.
The Radiation Oncology Service in unaffected by these recent changes and continues to operate normally.
To meet the demand for quality oncology services, the College of Veterinary Medicine has endorsed an expansion of our clinical oncology faculty. We are currently filling unexpected vacancies and adding additional faculty to our services--both medical and radiation oncology.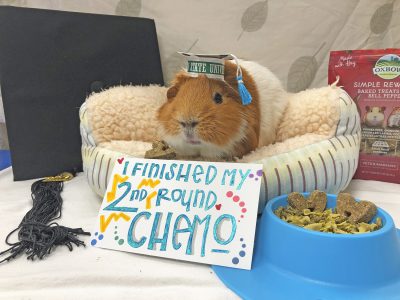 The Oncology Service works with owners and their veterinarians to diagnose and treat pets with cancer. In our comprehensive analysis of your pet's health status, we evaluate some of the common abnormalities found in pets with cancer: growing and/or bothersome masses, decreased appetite, loss of weight, and others. With quality of life in mind, we design a treatment strategy that fits the needs of your pet and your family. We offer the most advanced oncologic treatments for your pet, including but not limited to, immunotherapy, nuclear therapy (I131), radiation therapy, and target chemotherapy. As part of our concept of integrative medicine, we work together with other specialty services of the VMC and ancillary programs like acupuncture, nutrition, and rehabilitation medicine.
Common Tumors We Treat
Hemangiosarcoma
Histiocytic sarcoma
Leukemia
Lymphoma/lymphosarcoma
Malignant melanoma
Mammary tumors
Mast cell tumor
Nasal tumors
Osteosarcoma
Soft tissue sarcoma
Thyroid tumors
Transitional cell sarcoma
We administer chemotherapy to approximately 10-20 pets per day. To better work with the diverse and ever-changing population of East Lansing and Michigan, we are proud to offer our service in six languages: English, Spanish, Italian, Japanese, Portuguese and Galego.
We frequently work with patients who have:
Decreased appetite
Diagnosed or undiagnosed cancers
Growing and/or bothersome masses
Poor general health
Our clinicians and technicians work closely with our clients' referring veterinarians. Our focus is to maintain quality of life for our patients.