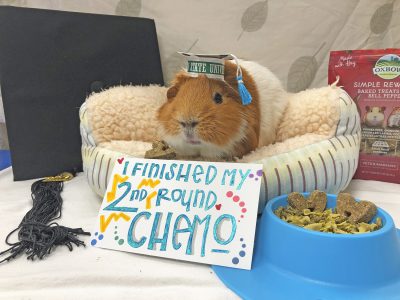 The Oncology Service works with owners and their veterinarians to diagnose and treat pets with cancer. In our comprehensive analysis of your pet's health status, we evaluate some of the common abnormalities found in pets with cancer: growing and/or bothersome masses, decreased appetite, loss of weight, and others. With quality of life in mind, we design a treatment strategy that fits the needs of your pet and your family.
We offer the most advanced oncologic treatments for your pet, including but not limited to, chemotherapy, immunotherapy, nuclear therapy (I131), radiation therapy, and targeted therapy.
Maintaining quality of life is our primary goal, so we work together with other specialty services of the Veterinary Medical Center and ancillary programs to provide well-rounded, thoughtful care.
Common Tumors We Treat
Hemangiosarcoma
Histiocytic sarcoma
Leukemia
Lymphoma/lymphosarcoma
Malignant melanoma
Mammary tumors
Mast cell tumor
Nasal tumors
Osteosarcoma
Soft tissue sarcoma
Thyroid tumors
Transitional cell carcinoma
We frequently work with patients who have:

Decreased appetite
Diagnosed or undiagnosed cancers
Growing and/or bothersome masses
Poor general health
Our clinicians and technicians work closely with our clients' referring veterinarians. Our focus is to maintain quality of life for our patients.