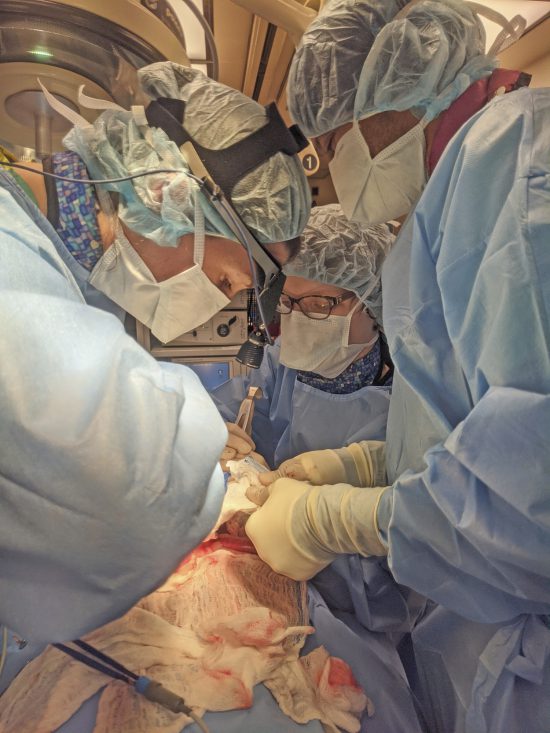 The American College of Veterinary Surgeons
The American College of Veterinary Surgeons is the specialty board that sets the standards in veterinary surgery. Their website describes what a veterinary surgeon is and provides information on various small and large animal surgical diseases.
The Soft Tissue Surgery Service consists of a highly trained team of faculty (board-certified specialists), surgery residents, interns, surgical fellows, and senior students. Also part of this team is six dedicated Operating Room Technicians and two STS Service Technicians, all licensed and experienced veterinary technicians. We also consult and work closely with the other Services at the MSU Veterinary Medical Center to provide you and your pet with the best service possible.
The team undertakes many different types of surgery, including large tumor removal, advanced airway surgery, all types of hernias, major intestinal and abdominal procedures, attenuation of portosystemic shunts and other vascular anomalies, repair of congenital defects, such as cleft palates, all types of urinary surgeries, extensive wound management, skin flaps, and free skin grafting.

We perform a number of procedures thoracoscopically and laparoscopically, through 1-3 very small incisions. These procedures are usually routine spays, removal of retained testes, gastropexies, liver biopsies, and removal of the gall bladder. We also perform advanced airway surgery (for GOLPP).
"We provide traditional, emergency, minimally invasive, and innovative surgical procedures to ensure optimal care of our patients"
Patients typically visit the Soft Tissue Surgery Service for:
Surgical oncology
Advanced airway surgery
Trauma and emergency surgery
Management of portosystemic shunts and vascular anomalies
Surgical management of urinary incontinence
Preventative and routine surgeries
Laparoscopy
Thoracoscopy
Microvascular and advanced urinary surgery
Wound management and advanced reconstructive procedures
Soft Tissue Surgery works closely with both the Emergency Care and Critical Medicine service to provide 24-hour surgical care for emergency patients and other services including Internal Medicine, Medical Oncology, Dermatology, and Primary Care to provide comprehensive, team-based care for our patients.
Soft Tissue Surgery is also supported by the on-site Diagnostic Imaging service, with capabilities including ultrasound, radiography, fluoroscopy, CT, nuclear medicine, and MRI, and comprehensive Clinical Pathology and Diagnostic Laboratory services.
Patients undergoing surgical procedures at MSU VMC also benefit from the oversight of board-certified veterinary anesthesiologists. Not only do these doctors help to provide the safest anesthesia for the patients that we care for, they work with surgical services to provide cutting-edge pain management to ensure comfortable recoveries.