Please note: The Ophthalmology service will be having limited operations Wednesday, Oct. 26 until Monday, Oct. 31. Please contact the hospital before arriving with ophthalmology-related concerns.

The MSU Ophthalmology service, which receives both large and small animal clientele, is experiencing a large increase in the number of cases that arrive without an appointment. These are in addition to our currently over-booked appointment schedule which can mean delays for clients with regular appointments. While we will continue to make every reasonable effort to service the community, attempting to care for a large number of unexpected patients is not sustainable. As such, the Ophthalmology service will be implementing changes in the way cases presenting to the service without a scheduled appointment are handled.
During normal business hours, (M-F, 8-5), unexpected patient arriving for care will undergo an initial, brief medical evaluation to determine if emergency eye care is needed, or whether additional diagnostics are needed to make that assessment. Client of patients not needing emergency eye care may be instructed to schedule a regular ophthalmology service appointment on another day. If you or your veterinarian are unsure about the need for emergency eye treatment, please call the Veterinary Medical Center. During normal business hours, a member of our ophthalmology team will be happy to discuss the patient's status to provide guidance on the best course of action. For nights and weekends, our VMC emergency service sees all emergency cases and will contact a member of the ophthalmology team if the need arises.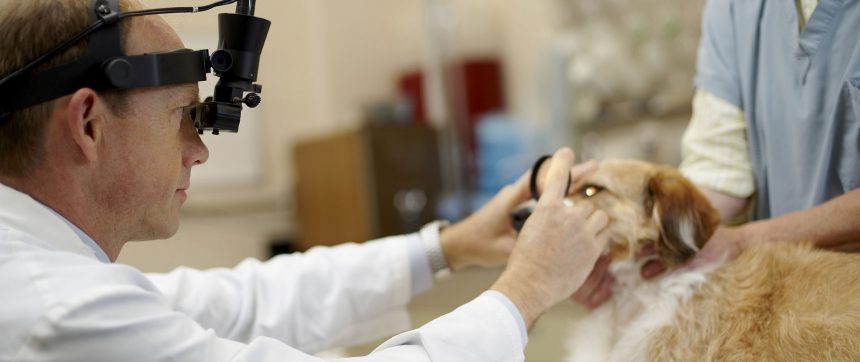 The Comparative Ophthalmology Service at the MSU Veterinary Medical Center is dedicated to research, education, and clinical practice for large, small, domestic, wild, and zoo animals.
Our Hospital service is run by three board-certified clinicians and supported by our three residents and licensed veterinary technician. Also part of the team are our students on rotation who collaborate with us to offer the best in care and highest quality veterinary medical education. Our team uses the most advanced equipment to diagnose and treat regular, unique, and emergency eye conditions. Additionally, we collaborate with other Hospital services to offer the best in surgical and other therapeutic solutions.
Our faculty conducts ground-breaking research on inherited retinal and glaucoma diseases. As one of the leading veterinary ophthalmologic research groups on the continent, our researchers explore the causes of inherited blinding diseases and are developing genetic and other novel therapies to treat these conditions. With values that align with the American College of Veterinary Ophthalmologists, our board-certified ophthalmologists provide advanced diagnostic, therapeutic, and surgical services to assess and treat a full range of eye diseases, conditions, and injuries.
"Our advanced diagnostics allow us to observe and counteract ocular diseases and conditions before it's too late."

– András Komáromy, DrMedVet, PhD, DACVO, DECVO, Associate Professor
Our advanced, state-of-the-art diagnostics include:
High-resolution digital ocular imaging
Fluorescein angiography
Pupillometry
Ocular ultrasound
Computed tomography (CT)
Magnetic resonance imaging (MRI)
Electroretinography
Patients typically visit us for:
Cataracts
Dry eye
Eye abnormalities
Eye injuries
Genetic eye screening
Glaucoma
Retinal diseases
Tumors