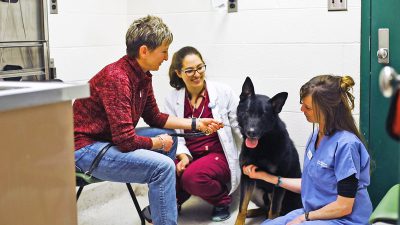 The Primary Care Service provides routine health care, including physical examinations, wellness care for all life stages, vaccinations, and diagnosis and treatment of injuries or illnesses. General surgery, spays and neuters, dentistry for dogs and cats, and select services for small mammals also are offered.
If the need exists, the team may refer a patient to one of the many specialty services at the Hospital. The Service focuses on safe and low-stress handling and has separate feline and canine waiting areas.
The Service, in keeping with our commitment to excellence in education and excellence in patient care, is staffed by senior veterinary students who are supported and supervised by primary care veterinarians. The Service provides students with experience in primary veterinary care and client communication.
Appointments vary in length, but typically last about an hour.
Primary Care Services
"Michigan State's Primary Care service is a full-time service at the Veterinary Medical Center that provides comprehensive outpatient care for the surrounding community."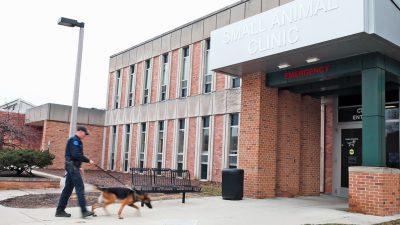 Wellness care for all life stages
Vaccinations, preventatives, yearly parasite screening
Microchipping
Primary diagnosis and treatment of injuries and illnesses
Interstate and international health certificates
Primary behavioral concerns with referral to Hospital behaviorist if appropriate
Nutritional assessment and consultations
General surgical procedures
Spay and neuter surgery
General dental care including dental cleanings, radiographs (X-rays), and extractions
Euthanasia and palliative care
Referrals and consultations for surgery, specialty care, and emergency/critical care are available through the MSU Veterinary Medical Center.