The MSU Veterinary Medical Center has a full-service non-commercial pharmacy to provide prompt and thorough resources to our patients.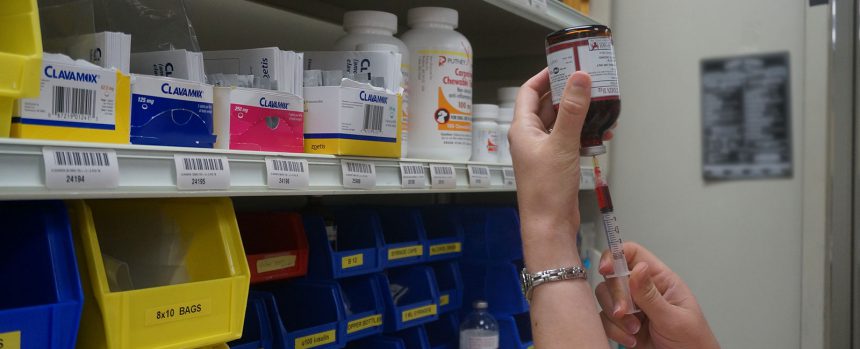 "A small but mighty team, MSU's veterinary pharmacy service is honored to serve our animal patients."
Our services are provided to meet the unique needs of our animal patients; the treatment requirements of the clinical faculty including interns, residents, and fellows; and, the educational needs of the Doctor of Veterinary Medicine and Veterinary Nursing students of the College of Veterinary Medicine.
Our Services
Drug Information
Pharmacotherapy consultation
Drug distribution & dispensing
Regulations
The pharmacy in the Veterinary Medical Center at Michigan State University is licensed by the State of Michigan, Board of Pharmacy, as an institutional pharmacy. We are not a retail pharmacy, nor are we open to the general public. We only fill prescriptions from Hospital veterinarians.
Our services are restricted to hospital INPATIENTS, and the OUTPATIENTS of the various large and small animal clinics.
We dispense medications and supplies for ANIMAL use only.
The Pharmacy may be reached by phone at (517) 353-7739