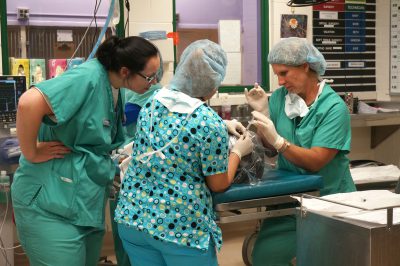 Whether sedating a small or large animal for a diagnostic or surgical procedure or managing post-operative or chronic pain, the MSU Anesthesia and Pain Management team are the experts. All animals receive outstanding care from our team of board certified veterinary anesthesiologists and highly trained anesthesia technicians, who focus on carefully monitoring anesthesia while minimizing its inherent risks. We are the only veterinary hospital in central Michigan with board-certified anesthesiologists.
We have some of the finest veterinary anesthesia and analgesia clinicians and nurses at Michigan State University's Veterinary Medical Center. Our highly experienced and trained team manages cases that range from routine to highly complex anesthetic cases on a daily basis. As a team, our primary goal is to provide the best anesthesia and pain management service to our client's pets.
Our anesthesia veterinarians collaborate with all of the Hospital services, especially orthopedic surgery, soft tissue surgery, internal medicine, diagnostic imaging, emergency and critical care medicine, equine sports medicine, and ophthalmology.
Anesthesia and Pain Management Services
Anesthesia and pain management for large and small animals
Injectable and inhalant anesthesia

Local and regional anesthesia and analgesia
Mechanical ventilation
Sedation for the most complex standing surgeries for large animals