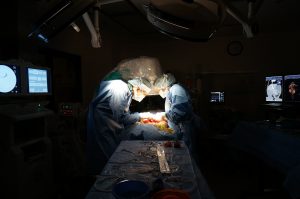 "The Interventional Radiology Service leads in expertise and state-of-the-art treatment options. This minimally invasive approach to care allows for shorter hospital stays, faster healing, and less pain for our patients."

– Matthew Beal, DVM, DACVECC,
Professor; Emergency and Critical Care Medicine and Interventional Radiology
The Interventional Radiology Service at the MSU Veterinary Medical Center uses advanced imaging techniques, including ultrasound, fluoroscopy, CT, and MRI to guide the delivery of materials for diagnostic and therapeutic purposes. This minimally invasive approach to treatment facilitates shorter hospital stays, decreased pain, and a more rapid return to function. Our Service is one of only two formal Interventional Radiology services in the country.
Patients typically visit the Interventional Radiology Service for:
Respiratory interventions
Cardiovascular interventions
Urogenital interventions
Portosystemic shunt treatments
Oncologic applications
Nutritional applications
The Interventional Radiology Service does not have specific service hours. However, we are always available during business hours for consultation with referring veterinarians to discuss how Interventional Radiology can aid in the treatment of many diseases of many small-animal patients. If we are unavailable, consultation calls will be returned promptly. The Interventional Radiology Service operates on an appointment basis; however, we recognize that certain disease processes necessitate emergency treatment, and we are able to meet these needs.