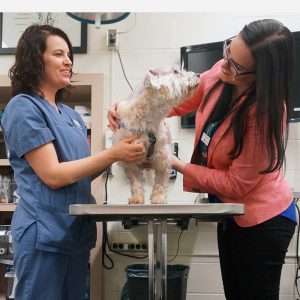 Patients of the MSU Veterinary Medical Center's Neurology Service have access to advanced diagnostics, such as MRI, which allow us to provide the most accurate diagnosis and highest caliber of care. Our thorough approach to patient examination, lesion localization, and student instruction means that not only do patients receive personalized attention, but that future generations of veterinarians are being exceptionally trained for neurological disease diagnosis and treatment.
The Neurology Service at the MSU Veterinary Medical Center offers a multidisciplinary approach to the diagnosis and treatment of neurological conditions that affect the brain, spinal cord, inner ear, and vertebrae, as well as muscles and nerves.
The Service provides advanced medical and surgical care and works collaboratively with other specialty services within the hospital, including Anesthesia, Emergency and Critical Care, Surgery, Radiology, and Rehabilitation.
Clinical Procedures and Equipment
The Veterinary Medical Center has a state-of-the-art neurosurgical suite and advanced surgical equipment.
Cerebrospinal fluid (CSF) collection ("spinal tap")
Craniotomy (tumor resection, biopsy, etc.)
Helical CT scanner; access available seven days a week.
Muscle/nerve biopsy
Siemens 1.5 Tesla MRI with DTI and Functional MR capabilities. This high-field magnet offers superior resolution. Access to MRI is available Monday to Friday during normal business hours
Spinal surgery (hemilaminectomy, dorsal laminectomy, cervical ventral slot, lumbosacral decompression, fracture/luxation stabilization, etc.)
Ultrasonic Surgical Aspirator (CUSA)
Common disorders treated by the Neurology Service include:
Congenital diseases (e.g., atlantoaxial subluxation, hydrocephalus, Chiari-like malformation)
Degenerative disc disease (intervertebral disc herniation/"slipped disc")
Encephalitis (infectious and non-infectious)
Seizure disorders
Spinal and brain cancers/tumors
Traumatic spinal and brain injuries
Vascular conditions (ischemic infarcts or "strokes")