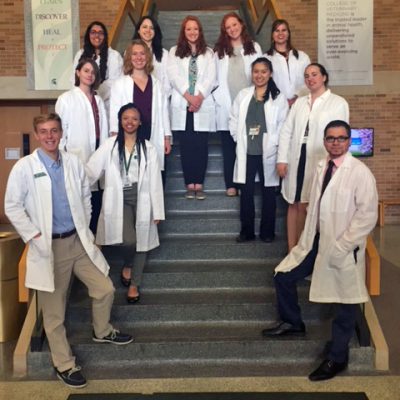 About the Program
The Enrichment Summer Program provides academic advancement and career knowledge for undergraduate students interested in veterinary medicine. The program focuses on developing well-qualified prospective students from disadvantaged backgrounds and is open to undergraduate students who have selected veterinary medicine as a career choice and who plan to apply to a professional program in the summer of the following cycle.

The Doctor of Veterinary Medicine simulated-curriculum, three-week residential program is held the first three weeks in June. Campus lodging and meals are supported by the College. Week one is focused on didactic coursework including a hands-on anatomy lab. Week two is focused on leadership development. Week three is focused on shadowing in the Veterinary Medical Center.
Download more information about this exciting opportunity here.

Eligibility
Michigan permanent resident
Minimum 3.0 cumulative GPA
Completion of at least 50% of prerequisites by start date of ESP
Intent to submit VMCAS application next cycle
Application and Materials
The ESP application opens November 1, 2018 and closed January 31, 2019. Twelve positions are available for this exciting opportunity. All application materials must be received or postmarked (for items sent by U.S. mail) by January 31, 2019.
Free online application
Official transcript from your current institution and unofficial transcript(s) from previous institution(s)
One letter of recommendation signed on official letterhead (recommender must be related to veterinary or academic work)
Applications for 2019 are now closed
Benefits
Receive intensive preparation for professional school
Obtain exposure to the diverse professional opportunities in veterinary medicine
Develop more efficient study and test strategies
Gain field and clinical experience with multiple species of animals
Engage in specialized science disciplines
Create lifelong bonds with fellow students from across the state of Michigan
Experience life on the beautiful MSU campus
Spend time with faculty mentors
Attend seminars on communications, leadership, and preparing the Veterinary Medical School Application Service (VMCAS)
FAQs
Where will I be housed on campus for the program?
On-campus housing is provided as part of the program at no cost to the student. Campus housing is at Owen Graduate Hall. Accommodations are suitemate style rooms—single rooms with a shared bathroom. Suitemates are same-sex in accordance to housing policy. Click here for details.
Is there public transportation on-campus?

The CATA (Capital Area Transportation Authority) provides public transportation. Bus routes are scheduled at the perimeter of campus, not on-campus, in the summer months. Click here for more information.
What is the dress code?
Dress is casual. Bring sneakers/walking shoes. Teaching hospital shadowing week and scheduled activities with the administration require business casual attire. The dairy farm trip requires closed-toe boots and clothing that can get dirty. Do not bring scrubs as they are not required nor recommended for program students.
What are my dining options as part of the program?
Dining on-campus is covered by the program at The Vista at Shaw Hall. Click here for more information.

Are there gyms available? Is there any cost?
Campus has multiple intramural sports facilities within walking distance of Owen Graduate Hall. Please visit their website for details, hours, and cost.

Is parking provided on-campus? What is the proximity to where we live?
The program will furnish a parking permit allowing for parking within walking distance to housing and the College. The lot is located across the street from the Owen Graduate Hall.
What materials will the program provide?
All program students will check out materials including course textbooks, lab coat, a lock for a locker, and coveralls. Other supplies, disposable or provided for specific courses, include boot sleeve covers, gloves, goggles, and a dissection kit.