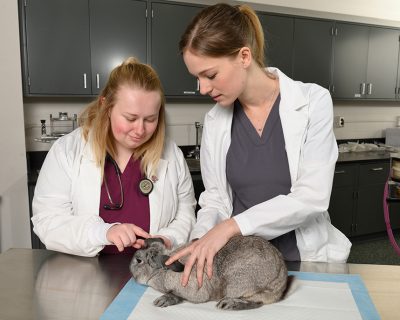 The Veterinary Nursing Program requires prerequisite courses which must be completed by June 1 of the year the student wishes to begin the Program.
To be considered for admission, an applicant must have a minimum cumulative GPA of 2.75, a minimum math and science GPA of 2.5 (with a minimum of 2.0 in all prerequisite math and science courses), and a minimum GPA of 2.5 for the most recent 12 credits.
The following prerequisite courses or transfer equivalencies must be completed by June 1 of the year the applicant is applying to be admitted into the Veterinary Nursing Program:
College Algebra (MTH 103)
Cells and Molecules Biology Lecture and Lab (BS 161 and 171)
Writing as Inquiry (WRA 101)
It is recommended that bachelor students complete 28 credit hours, including the program prerequisites and additional university graduation requirements, prior to June 1 of the year they wish to matriculate into the Veterinary Nursing Program. For students wishing to obtain a bachelor degree, additional Michigan State University requirements include the following:
Quantitative Literacy I (MTH 101) or Trigonometry (MTH 114) or higher math (MTH 116, MTH 124, MTH 132, STT 200, STT 201)
Organisms and Populations Biology (BS 162 and 172)
Inorganic Chemistry (CEM 141)
2 courses in Integrated Studies in Arts and Literature (IAH 201-210 and IAH 211 and above)
2 courses in Integrated Studies in Social, Behavioral and Economic Sciences (ISS 200 level and ISS 300 level)
If you believe you have completed these requirements at another College or University within the state of Michigan, you may visit the MSU transfer equivalency web-page to determine course equivalents. (this is the same as before)
Please contact our advising office for transfer equivalency assistance.