Dedicated to providing the most accurate diagnosis and optimal treatment of muscle disorders in horses
Holiday Schedule: Muscle samples submitted to the Neuromuscular Diagnostic Laboratory between Dec 16th and Dec 20th 2019 will not be read out until Dec 30th. The Lab will not be open to receive samples December 23rd through Dec 27th. Because Dec 31 and Jan 1 2020 are University holidays, we would encourage elective biopsies to be scheduled after Jan 6th. The Laboratory will be open Thursday Jan 2nd and Friday 3rd to receive samples if necessary.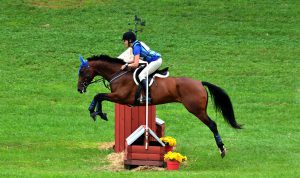 The overarching goal of the equine neuromuscular diagnostic laboratory (NMDL) is to define the basis for neuromuscular disorders in horses, develop accurate, minimally invasive diagnostic tests, and optimal methods for preventing or managing these diseases.
Diagnostic Services
Muscle biopsy testing: The equine NMDL offers specialized muscle biopsy diagnostic services. For forms, shipping information and pricing click on the links below:
For questions regarding sample submission call: (517) 353-1683 Monday-Friday, 7:30 a.m. - 5:30 p.m. EST. To contact the NMDL directly email: nmdl@cvm.msu.edu.
Genetic testing
Genetic testing is not done at Michigan State. Below are links to labs that perform PSSM1 and MYHM genetic testing.
PSSM1 testing
PSSM1 testing continues to be offered at the University of Minnesota with forms, shipping information and pricing available at this link:
Click here for PSSM1 genetic testing
MYHM testing
MYHM testing for immune mediated myositis and nonexertional rhabdomyolysis is done at the University of California Davis with forms, shipping information and pricing available at this link:
Click here for MYHM genetic testing
Information on validation of the MYHM genetic testing and associated research


Information on this site is intended for information purposes for veterinarians to guide in the diagnostic work up of muscle diseases. Owner-diagnosis and owner-treatment of horses is not recommended, and may indeed be dangerous. Owners must consult their veterinarian before implementing any of the treatment recommendation described.