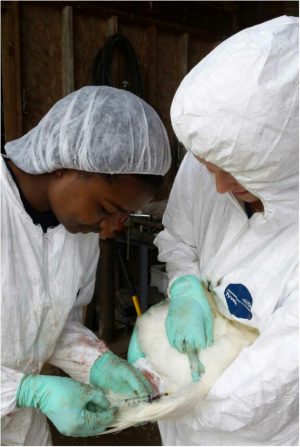 The MSU College of Veterinary Medicine Summer Food Systems Fellowship (FSF) Program is a unique partnership between the College and industry partners who are interested in ensuring the supply of well-trained veterinarians to work within the food animal industry.

This program provides veterinary students with the opportunity to become exposed to the food industry through experiential learning opportunities working with partners in agriculture industries or MSU faculty. The positions are structured to be beneficial for both the student and the hosting partner. Students complete projects that lead to a further understanding of the food industry by the student. To further broaden the summer experience, students and industry partners participate in a variety of educational initiatives and professional development opportunities, including seminars and training workshops.
2024 FSF Flyer
Who can apply?
The FSF is open to students that:
Are currently admitted or enrolled in a veterinary program that is accredited by the American Veterinary Medical Association Council on Education.
Are a citizen or permanent resident of the United States.
Due to the nature of the program's funding, no exception to these conditions are allowed.
Program benefits
$7,000 stipend
$500 research travel stipend
Participation in

Career exploration sessions
Professional development opportunities
2024 Cycle
Applications are open until December 29, 2023. The program will take place May 28 to August 9, 2024.
Apply Online
You can access the descriptions of the positions offered for the 2024 summer here (note that more positions could be added until the application deadline as we continue to enlist more partners).
If you have any questions about the Summer Food Systems Fellowship, check this FAQ sheet. If your question isn't answered in the FAQ, contact Dr. Angel Abuelo at abuelo@msu.edu.


This program is supported by competitive grant no. 2021-67037-34657 from the USDA National Institute of Food and Agriculture.