Mary Anne McPhail is an accomplished rider, trainer, and dressage judge and an extremely generous supporter of the equine industry and the MSU College of Veterinary Medicine.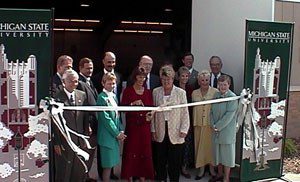 To say that horses have been a large part of Mary Anne McPhail's life would be the understatement of the century. Originally from Kentucky, McPhail's uncle owned a thoroughbred horse farm, which she visited often. When she was nine years old, her father bought Mary Anne her first horse. Although she moved with her family to the Detroit area shortly after that, far away from her uncle's farm, she never lost that love of horses. Later, as an adult with a family of her own, she helped set up a nursery school at an old estate in Bloomfield Hills. It didn't take long for McPhail and her husband, Walter, to purchase a number of horses to fill the pastures that surrounded the estate.
McPhail soon developed a strong interest in dressage, an interest that led her to fund the establishment of the Mary Anne McPhail Dressage Chair in Equine Sports Medicine. That position was held by widely respected dressage authority Dr. Hilary Clayton from 1997 until her retirement in 2014. In July 2015, the College appointed Dr. Stephanie Valberg, an international leader in understanding and managing equine neuromuscular disorders, as the new Mary Anne McPhail Dressage Chair in Equine Sports Medicine.
Today, McPhail stays busy serving on the United States Equestrian Team (USET) Dressage Committee, the USET Board of Trustees, and the board of the Vinceramos Therapeutic Riding Center in Florida. She and Walter, a retired CEO of an automotive parts company, divide their time between Michigan and Florida.