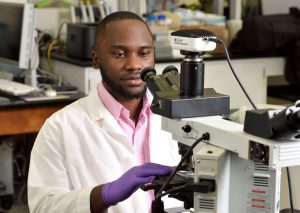 Orientation
BRUSH scholars receive an extensive orientation to gain familiarity with the program and MSU facilities, understand what to expect and how to succeed during their time in BRUSH, gain exposure to research-related careers, and discuss various aspects of responsible conduct of research. During this time and throughout the summer, scholars are encouraged to form connections with peers within the BRUSH Program and other research programs across campus.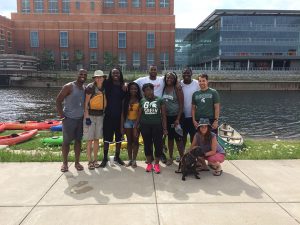 Mentored research
Scholars meet their faculty mentors in program week 1 and work full time on their research projects from week 2 until the conclusion of the program. BRUSH students' research projects are designed to immerse them in the full research experience–scholars review the scientific literature to gain a deeper understanding of their research topic, generate data using the appropriate techniques, conduct data analysis and interpretation, and present their results in both written and oral formats.
Data & Dining
Scholars meet weekly over dinner during which they practice presenting their research topic to one another and to program staff. Over the course of the summer, scholars become proficient at presenting their research, answering questions, and giving and receiving feedback on their presentations.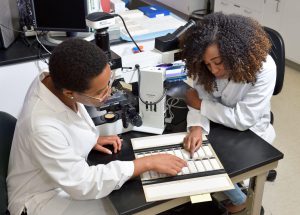 Mid-Michigan Symposium for Undergraduate Research Experiences (Mid-SURE)
Toward the end of the program, undergraduate scholars present their research in poster format to students and faculty involved in summer research programs across the MSU campus and at other institutions in the region.
Oral presentations
Scholars present their research in oral form (10-minute slide presentation) to the faculty and students in the BRUSH Program and in partnering programs in the college and across campus.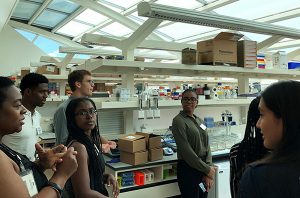 Field trips
Through networking events, BRUSH students explore graduate programs and the variety of medical school opportunities at MSU and other institutions in the region.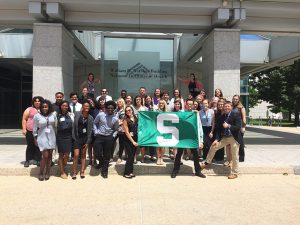 Present at a national conference
Program scholars travel to and present their research in poster format at one of several national conferences, including the Annual Biomedical Research Conference for Minoritized Scientists (ABRCMS), the Society of Toxicology's Annual Meeting and ToxExpo, or the Veterinary Scholars Symposium (VSS). In addition to presenting their research posters, students will attend scientific sessions, career development workshops, and expand their networks with fellow students and professionals working in their fields of interest.

Social activities and gatherings

Undergraduate students in the program live in MSU's on-campus residence halls with their BRUSH peers along with students participating in other summer research programs; this provides plentiful opportunities to socialize with peers, develop connections with those sharing similar interests, and form long-lasting friendships.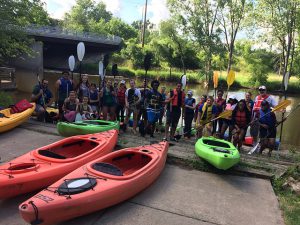 Scholars participate in various social activities that are designed to build community among BRUSH cohort members while exploring some of Michigan's greatest attractions. While opportunities vary by year, activities typically have included: enjoying Michigan's Adventure theme park and roller coasters, ziplining and navigating ropes courses at TreeRunner Adventure Park, kayaking day trip down the Grand River, relaxing at picnics, and discussing popular science media in a book club format.

Scholars participate in social and community-building activities with other programs. Such activities may include a trip to Detroit to visit the Detroit Institute of Art, a trip to the Kellogg Biologic Station, or a trip to one of Michigan's Great Lakes.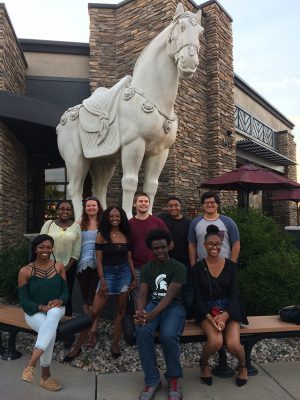 Partnerships with other summer research programs
The BRUSH Summer Research Program partners with other programs, such as the Summer Research Opportunity Program (SROP) and the Veterinary Scholars Summer Research Program. These partnerships extend the networking opportunities for participants and introduce BRUSH students to the concept of "One Health"—that the health of humans, animals, and the environment are interconnected—which serves to advance their understanding off the integrative efforts needed to attain optimal health for our society as a whole.