Each year, the College of Veterinary Medicine presents a colloquium in conjunction with the veterinary honor society, Phi Zeta, that showcases the research and scholarship of students and faculty from CVM and other affiliated MSU departments and colleges.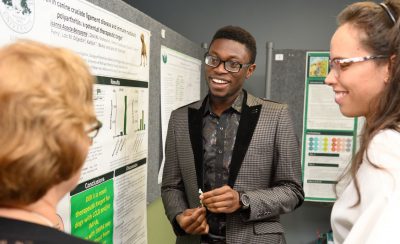 Veterinary students, master and doctoral students, residents, interns, undergraduates, and faculty present current research across the biomedical sciences. Research experience affords students opportunities to explore research-based veterinary career options and promotes the investigation of new ideas that support the protection of public health and the advancement of science that benefits both humans and animals as individuals and populations. Collaboration with other MSU colleges and departments fosters world-class research and strengthens the overall learning environment.

The Michigan State University College of Veterinary Medicine's Phi Zeta Honor Society was the 6th chapter established in the United States in 1950. Membership is offered by invitation based on high academic achievement and sound character to veterinary students, graduate students in the biomedical sciences, faculty and veterinarians. Phi Zeta promotes the constant advancement of the veterinary profession, for higher educational requirements, and for high scholarship. The society's goal is to recognize and promote scholarship and research in matters pertaining to the welfare and diseases of animals.